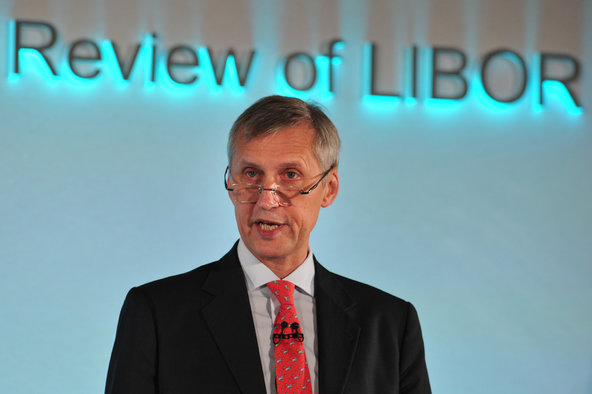 Carl Court/Agence France-Presse — Getty ImagesMartin Wheatley, a British financial regulator, conducted a review of Libor that started the search for a new administrator.
9:10 a.m. | Updated
The parent company of the New York Stock Exchange won a contract on Tuesday to administer and improve the controversial benchmark interest rate known as Libor.
The move could help provide a fresh start for the London interbank offered rate, which helps determine the cost of short-term loans around the world. The banks that help set the rate each day have been accused of conspiring to rig the rate for their own benefit before and during the financial crisis, leading to billions of dollars in fines and a few arrests.
NYSE Euronext announced on Tuesday morning that it planned to take over the administration of Libor early next year. Finbarr Hutcheson, the chief executive of NYSE Liffe, a NYSE Euronext subsidiary in London, said in a statement that his group was interested in "continuing the process of restoring credibility, trust and integrity in Libor as a key global benchmark."
A new subsidiary, NYSE Euronext Rate Administration Ltd., "will be able to leverage NYSE Euronext's trusted brand, long regulatory experience and market-leading technical ability to return confidence to the administration of Libor," according to a statement from the company.
The decision comes just a few weeks after European regulators approved NYSE Euronext's sale to IntercontinentalExchange, or ICE, an Atlanta-based operator of derivatives exchanges. NYSE Euronext has been trying to diversify its business beyond its traditional stock exchanges as stock trading volumes and revenues have fallen steadily.
Libor Explained
Until now, the daily process through which Libor is set has been run by the British Bankers' Association, an industry group in London. A British government review of Libor led by Martin Wheatley, at the time the managing director of Britain's Financial Services Authority, recommended last fall that the responsibility for formulating Libor should be given to an "independent party."
NYSE Euronext beat other contenders, including the London Stock Exchange, said a person briefed on the process, who spoke on the condition of anonymity ahead of a public announcement.
The company was picked by an independent committee led by Sarah Hogg, chairwoman of the regulator responsible for financial reporting, after a tender process that started in February. The deal will still need to be approved by the Financial Conduct Authority, now led by Mr. Wheatley.
The so-called Wheatley Review recommended that Libor should continue to be set through daily consultations with the world's largest banks. But while those banks now provide estimates of how much they are charging for short-term loans, in the future the administrators of Libor are also supposed to use data from actual short-term loans.
At least one regulator was critical of the selection of NYSE Euronext.
"We had a 'fox guarding the henhouse' issue here, and we should learn from that," said Bart Chilton, a member of the Commodity Futures Trading Commission in the United States. "I firmly believe that having a truly neutral third party administrator would be the best alternative, and I'm not sure that an exchange is the proper choice."
Julia Werdigier contributed reporting from London.
Article source: http://dealbook.nytimes.com/2013/07/09/nyse-euronext-to-take-over-libor/?partner=rss&emc=rss