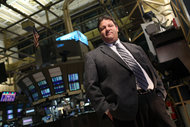 Michael Appleton for The New York Times WPBT sold "N.B.R." to Mykalai Kontilai in 2010. Atalaya Capital Management took over in 2011.
"Nightly Business Report," the pioneer public television series that has struggled in recent years, is getting a new, deep-pocketed commercial owner, the 24-hour business cable channel CNBC, a unit of Comcast's NBCUniversal.
CNBC announced on Thursday that it would buy the rights to the show, available in 96 percent of television homes in the United States, from the investment firm Atalaya Capital Management for an undisclosed price. CNBC will begin producing "Nightly Business Report" from its New Jersey headquarters on March 4. The program now originates in Miami, with bureaus in New York and Washington.
The format will remain the same. Tyler Mathisen of CNBC will anchor with Susie Gharib, the current co-anchor, who is under contract through 2013. The co-anchor Tom Hudson and the remaining staff of 18 will leave.
In a telephone interview, Rick Schneider, president of the Miami public station WPBT, where the show is based, called the new owners "a good thing for the program and for the public television system." Not only will the show survive, but "it will likely be enhanced," he said. " 'N.B.R.' has always lacked having a major news-gathering organization behind it."
The purchase is the show's third change of hands in less than three years. In August 2010, Mykalai Kontilai, an entrepreneur and former mixed martial arts manager, bought it from WPBT, which founded the show in 1979 before the era of 24-hour cable business news. Atalaya Capital Management, Mr. Kontilai's backer, took over in November 2011, after few of Mr. Kontilai's ambitious expansion plans were achieved.
In a telephone interview, Nikhil Deogun, CNBC's senior vice president and editor in chief for business news, said the show's audience "has very little duplication, as best we can tell" with the CNBC audience. He said it would provide additional opportunities for CNBC journalists.
PBS withdrew its financial support of "Nightly Business Report" in 2011 and stopped distributing it. American Public Television now distributes the show to 180 stations and will continue to do so.
Ratings have drifted lower and the show's sole financial underwriter, Franklin Templeton Investments, withdrew in August, leading to layoffs and the closing of the Chicago bureau.
In a memorandum to the staff on Thursday, Mr. Schneider wrote, "It has been clear for months, even years, that the existing business model for 'N.B.R.' was unsustainable as national production underwriting dried up."
Mr. Deogun said CNBC would seek new underwriters, adding that NBCUniversal "has a great sales team."
Article source: http://mediadecoder.blogs.nytimes.com/2013/02/21/cnbc-to-purchase-nightly-business-report/?partner=rss&emc=rss