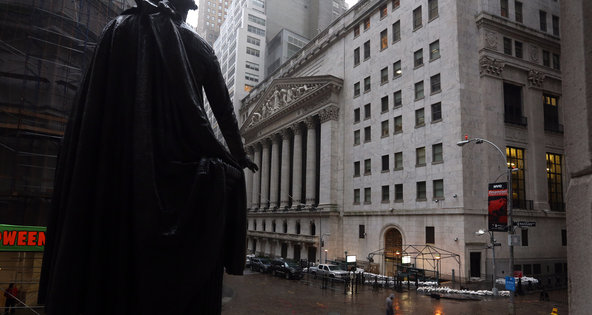 Michael Appleton for The New York TimesThe New York Stock Exchange was closed on Monday ahead of the arrival of Hurricane Sandy.
2:32 p.m. | Updated
Stock markets in the United States will be closed again on Tuesday for a second day without trading as Hurricane Sandy roared closer to the New York area.
The New York Stock Exchange, the Nasdaq stock market and BATS Global Markets said in separate statements that they have agreed to close, after consulting with other exchanges and clients. The N.Y.S.E. added that it planned to operate on Wednesday, pending developments in weather conditions.
The decision came as little surprise, with market operators already hinting that they would stay closed as the storm's impact intensified. And the Securities Industry and Financial Market Association, an industry trade group, recommended that United States bond markets stay closed on Tuesday as well.
The two-day stoppage is the first weather-related closure of the American stock markets since Hurricane Gloria in 1985. And it is the first unscheduled trading stoppage since the Sept. 11 terrorist attacks.
Representatives for the exchanges emphasized that the safety of their employees was paramount, relying on skeleton crews to run critical operations. And a slew of Wall Street firms, some of whose offices are based in evacuated areas of Manhattan, have asked employees to continue working remotely.
Hurricane Sandy Multimedia
A continued stoppage in trading is expected to have some costs for exchanges like the N.Y.S.E. and the Nasdaq stock market. Richard Repetto, an analyst at Sandler O'Neill Partners, estimated that stock and option exchanges would lose about $1 million in transaction fees for every day that they are closed.
That loss of revenue would likely have little impact on those companies' earnings, he added, though Mr. Repetto added that he did not factor in lost revenue from exchanges' other businesses.
Other Wall Street firms made contingency plans as well. Goldman Sachs advised employees in an internal memorandum to stay home on Tuesday, and that its offices at 200 West St. and 30 Hudson St. would be closed. The firm is relying on operations in London, Salt Lake City and elsewhere to keep its businesses running.

Here's the latest memo from Goldman's chief administrative officer, Jeffrey Schroeder:
October 29, 2012
Hurricane Sandy – Business Operations on Tuesday, October 30
Hurricane Sandy is expected to intensify this evening. Financial markets will be closed on Tuesday and transportation will remain suspended indefinitely in New York City and other locations affected by the storm. As a result, 200 West and 30 Hudson will be closed tomorrow.

The firm's Business Continuity Plans will remain active throughout Tuesday, leveraging our teams in London, Salt Lake City and other offices around the world.

Unless otherwise instructed by divisional management, you should plan to stay at home tomorrow. The safety and well-being of our people remains our highest priority. We ask you to be mindful of communications from municipal and state authorities, your divisional leadership and your managers.

We will provide further updates as necessary and request that you pay special attention to messages from the Office of Global Security (OGS). Please also visit the OGS site for more information on Hurricane Preparedness.

Thank you for your cooperation.

Jeffrey W. Schroeder
Article source: http://dealbook.nytimes.com/2012/10/29/u-s-markets-to-be-closed-on-tuesday/?partner=rss&emc=rss