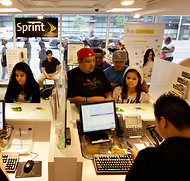 Eric Risberg/Associated PressCustomers lined up to purchase an iPhone at the Sprint store in San Francisco.
4:50 p.m. | Updated
If Sprint Nextel is seriously weighing a counteroffer for MetroPCS, its shareholders didn't appear particularly enthusiastic — at least at first.
Shares of Sprint closed down 2.1 percent in trading on Thursday, after Bloomberg News reported that Sprint was weighing a potential challenge to T-Mobile USA's proposed merger with MetroPCS. The deliberations are at an early stage, according to the news report.
Strangely enough, MetroPCS shares didn't immediately receive the customary rise that accompanies speculation that another suitor may emerge. Soon after the report, they were down 2.6 percent. The shares, however, rallied late in the trading day, and closed up 3.7 percent, at $12.69.
A spokesman for Sprint declined to comment.
If MetroPCS were to complete its merger with T-Mobile, it would bolster the strength of its business as it battles with larger rivals like Verizon Wireless and ATT. Moreover, it would leave Sprint with few options if it wants to grow through acquisitions, something that the company's chief executive hinted at last month.
Sprint has been hunting for additional wireless spectrum as it builds out its Long Term Evolution service, which would provide the high data speeds used by the latest generation of smartphones. Many analysts had seen MetroPCS as a good complement, given its abundance of network capacity and its use of the same CDMA cellphone technology.
Sprint and MetroPCS nearly merged earlier this year, in a stock-and-cash deal that was scuppered at the last minute by Sprint's board.
Industry bankers have said that Sprint may make another run at the company it left at the altar. There aren't exceptional restrictions preventing such a move: MetroPCS would owe T-Mobile's parent, Deutsche Telekom, a $150 million breakup fee if it accepted a deal from another suitor.
But some in the industry expressed skepticism that Sprint would be able to carry out a deal it had already walked away from, despite the benefits that a merger with MetroPCS would bring.
"This deal is substantially more complicated than what was contemplated six months ago, and Deutsche Telekom still wanted to go forward," one person close to MetroPCS told DealBook on Wednesday.
Article source: http://dealbook.nytimes.com/2012/10/04/sprint-shares-fall-on-report-of-possible-counterbid-for-metropcs/?partner=rss&emc=rss