Mark Lennihan/Associated PressA T-Mobile store in New York.
The parent company of T-Mobile USA agreed to buy MetroPCS on Wednesday, as the cellphone providers looked to compete with bigger rivals.
The merger is aimed at making T-Mobile a more robust competitor to Sprint Nextel, particularly in low-cost cellphone service. The deal will also help T-Mobile gain more customers and resources to build out a next-generation data network.
Under the terms of the complex transaction, MetroPCS will conduct a 1-for-2 reverse stock split and pay out $1.5 billion in cash to its existing shareholders, or about $4.09 a share. It will then issue new stock worth about 74 percent to T-Mobile's parent, Deutsche Telekom, leaving existing MetroPCS investors with a 26 percent stake.
Related Links
"The T-Mobile and MetroPCS brands are a great strategic fit – both operationally and culturally," René Obermann, the chief executive of Deutsche Telekom, said in a statement. "The new company will be the value leader in wireless with the scale, spectrum and financial and other resources to expand its geographic coverage, broaden choice among all types of customers and continue to innovate."
The cellphone carrier is bulking up in the face of increased competition. The combined company, which will be named T-Mobile, will have nearly $25 billion in revenue and $6.3 billion in profit. T-Mobile expects to wring out $6 billion to $7 billion in cost savings.
CLOSING THE GAP If the parent company of T-Mobile USA buys MetroPCS, the combined unit would have the fourth most cellular subscribers.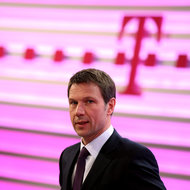 Oliver Berg/DPA, via Agence France-Presse — Getty ImagesRené Obermann, chief executive of Deutsche Telekom.
More important, T-Mobile will add to its customer base. With 42.5 million users, the combined company will close the gap significantly with Sprint, the No. 3 player with 56.4 million customers.
T-Mobile and MetroPCS will continue to operate as separate brands.
Throughout the morning, T-Mobile executives sought to allay one of the biggest concerns about the merger, the incompatibility of the company's network with MetroPCS' own. John Legere, who will become the chief executive of the combined network operator, argued that the company will slowly move MetroPCS' customers to its own GSM standard — with the goal of moving the unified entity to the Long Term Evolution technology down the road.
The aim was to avoid comparisons to Sprint's merger with Nextel, which failed at the same task and left that merged company in a far weaker position.
"This is not a replay of a debacle that we've seen in the past," he said on a conference call with analysts. "We will not smash together two networks with differing technologies."
Morgan Stanley and Lazard advised Deutsche Telekom. Legal advice was provided by Wachtell, Lipton, Rosen Katz; Cleary Gottlieb Steen Hamilton; KL Gates; and Wiley Rein.
MetroPCS was advised by JPMorgan Chase, Credit Suisse and the law firms Gibson, Dunn Crutcher; Paul Hastings; and Telecommunications Law Professionals. A special committee of its board was advised by Evercore Partners and the law firms Akin Gump Strauss Hauer Feld and Fulbright Jaworski.
Article source: http://dealbook.nytimes.com/2012/10/03/t-mobile-seals-deal-with-metropcs/?partner=rss&emc=rss