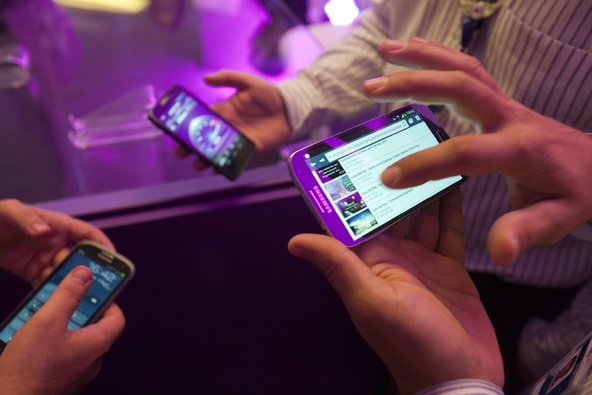 Sebastião Moreira/European Pressphoto AgencyTelefonica's Vivo brand based in Sao Paulo, Brazil.
MADRID – Telefónica denied a report on Monday that ATT had made a $93 billion approach for the Spanish telecommunications giant.
The denial came after a report by the Spanish newspaper El Mundo that the American company had been thwarted in a potential bid for Telefónica after the Spanish government told ATT it would oppose such a deal for national strategic reasons.
ATT's prospective deal would also have included the assumption of Telefónica's 52 billion euros in debt, according to El Mundo.
In Madrid, shares of Telefónica rose as much as 3.9 percent on Monday before paring back gains. They were up 2.6 percent in late morning trading.
Telefónica has been hurt by an increasingly difficult economic environment and has been looking to unload or spin off assets to reduce its debt levels. The company has been weighed down by a lengthy recession in Spain, which still represents a third of its operating profit but where it lost more than three million customers last year.

Despite Europe's gloomy outlook, the phone, wireless and cable sector has been one of the few bright spots in the moribund mergers and acquisitions market, as several American players, including John C. Malone's Liberty Global, continue to hunt for assets.
The Mexican billionaire Carlos Slim Helú has acquired companies like the Dutch cellphone operator KPN and its Austrian counterpart, Telekom Austria. Mr. Malone's Liberty Global also recently completed its $16 billion takeover of the British cable company Virgin Media.
Rumors also abounded that Verizon was planning a $100 billion approach to buy the 45 percent stake it did not already own in Verizon Wireless from its British partner, Vodafone.
In a brief statement, Telefónica said it had not been approached by ATT.
"In relation to press rumors published today, Telefónica states that it has not received any approach, nor any indication of interest, neither verbal nor in written form, from any party," the company said.
A representative for ATT declined to comment
The Spanish economy's problems, coupled with Telefónica's mountain of debt after a decade of aggressive investments in Latin America and Europe, raised concerns last year over how the company would be able to continue servicing its debt. Recent divestments, though, have helped alleviate such concerns. So did the decision by Telefónica to scrap its dividend payment for 2012. The company is aiming to cut its debt to below 47 billion euros by the end of this year from about 52 billion euros now.
As part of debt-reduction efforts, Telefónica spun off its German subsidiary, Telefónica Deutschland, raising $1.9 billion in Europe's largest initial public stock offering last year.
The company also sold its $1.4 billion stake in China Unicom back to the Chinese firm, while it continues to consider a potential listing for its Latin American divisions.
More than half of the assets of Telefónica are in Latin America, where its main competitor has been América Móvil, controlled by Mr. Slim.
ATT reduced its stake in América Móvil to 9 percent this month, but remains the second-largest shareholder in the company after Mr. Slim and his family. Any deal with Telefónica would therefore probably raise antitrust issues in Latin American markets.
The Spanish government also denied on Monday that it had vetoed a takeover approach by ATT. José Manuel Soria, the industry minister, told Spanish national television that he held talks with the management of ATT at a conference in Barcelona earlier this year, but that the American executives had not made any mention of Telefónica as a possible target as part of their expansion plans in the European market.
Mark Scott reported from London.
Article source: http://dealbook.nytimes.com/2013/06/17/telefonica-denies-talk-of-a-att-takeover-bid/?partner=rss&emc=rss