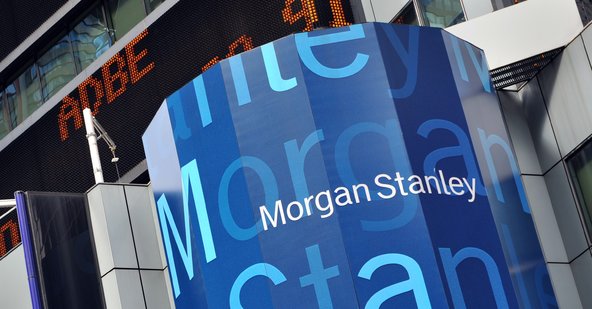 Stan Honda/Agence France-Presse — Getty ImagesThe headquarters of Morgan Stanley in Manhattan.
1:22 p.m. | Updated
Shares of Morgan Stanley were down more than 4.5 percent in afternoon trading on Thursday as investors appeared to be unimpressed with the firm's latest results.
The first-quarter adjusted earnings exceeded analyst estimates. And the financials had some bright spots, notably strong results in the bank's wealth management division. But the institutional securities division, which includes trading, logged a fall in revenue over year-ago levels, rattling some investors.
Roger A. Freeman, an analyst with Barclays, called Morgan Stanley's results "a mixed bag."
Including charges, the firm posted a profit of $1 billion, or 50 cents a share. That compares with a loss of $79 million in the period a year earlier. The results, however, were affected by one-time accounting charges related to the firm's credit spreads.
Excluding those charges, the firm had a profit of $1.2 billion, or 61 cents a share, a decline from the $1.4 billion reported in the first quarter of 2012. The results topped the estimate of 57 cents a share among analysts polled by Thomson Reuters.
Related Links
Morgan Stanley's adjusted revenue for the three months ended March 31 fell to $8.5 billion from $8.9 billion in the period a year earlier. Analysts had been forecasting revenue of $8.35 billion.
"Morgan Stanley demonstrated solid momentum across the firm this quarter, consistent with the strategic objectives we laid out at the beginning of the year," the bank's chief executive, James P. Gorman, said in a statement.
It was a tricky quarter for banks across Wall Street, and most firms posted decent but not eye-popping results. This was clearly the case with Morgan Stanley. The firm posted strong results in wealth and asset management, but institutional securities – its third major division, which includes fixed income and banking – experienced a revenue drop.
The wealth management unit, which has been a big focus for the firm since the financial crisis, has pushed into less-risky lines of business. The division, led by Gregory J. Fleming, posted pretax income from continuing operations of $597 million, up 48 percent from the $403 million reported in the first quarter of last year.
One number investors had been watching – the division's pretax profit margin – came in at 17 percent, higher than some analysts had projected. Net revenue in wealth management rose to $3.5 billion from $3.3 billion in the first quarter of 2012.
Asset management results were also strong. The unit posted revenue of $645 million in the first quarter, 21 percent higher than in the period a year earlier.
The bank has been working to cut back its fixed income operation, in part because that is where much of the firm's risk is embedded. Since the financial crisis, some banks have been looking to downsize this business segment and shed risk.
Excluding charges related to the firm's credit spreads, known as debt valuation adjustment, or DVA, net revenue in institutional securities was $4.4 billion, compared with $5.1 billion in the period a year earlier. Investment banking revenue, however, climbed 15 percent in the quarter, to $1.2 billion.
While the firm's debt and equity underwriting desks posted yearly revenue gains, most other departments did not fare as well. For instance, revenue from trading commodities and rates fell in the quarter. This decline in revenue from rates trading came despite a decision to take more risk over the last year. In rates and credit spreads, the firm's quarterly value at risk – a yardstick of how much could be lost in one trading day – was $61 million, up from $46 million in the year-ago period.
Morgan Stanley has been aggressively cutting costs over the last year, and its worldwide work force shrunk by 7 percent, to 55,289.
Return on equity, a measure of how efficiently shareholder money is being deployed, fell to 7.6 percent from 9.2 percent in the year-ago period.
Article source: http://dealbook.nytimes.com/2013/04/18/morgan-stanley-swings-to-a-profit-beating-estimates/?partner=rss&emc=rss