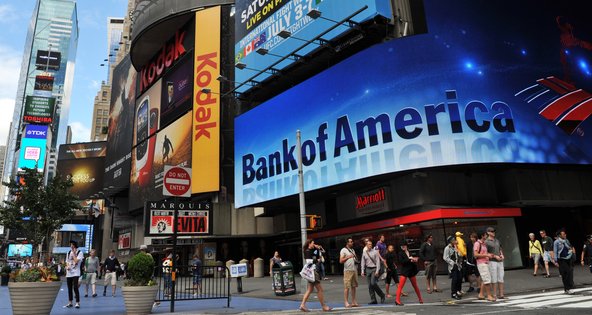 Stan Honda/Agence France-Presse — Getty ImagesA Bank of America branch in Times Square. The bank said it had exceeded analysts' estimates in the second quarter.
5:35 p.m. | Updated
Despite reporting better than expected profits Wednesday, the home-loan market remains a money pit for Bank of America.
On Wednesday, the second-largest bank in the United States after JPMorgan Chase, Bank of America said it earned $2.5 billion, or 19 cents a share, compared with analysts' projections of 14 cents for the quarter, as its expenses dropped and credit conditions improved.
However, the housing woes of the last few years are still taking a toll on the bank. Investors are increasing their demands that Bank of America repurchase soured mortgages, arguing they were improperly underwritten and sold to them in the first place.
Related Links
These so-called put-back claims totaled $22.7 billion in the second quarter of 2012, up from $16.1 billion in the first quarter.
Chris Kotowski, an analyst with Oppenheimer, noted that the $22.7 billion figure was more than double total such claims in the second quarter of 2011, when they stood at $9.9 billion.
"It's not just that it's going up, it's going up at an accelerated rate," Mr. Kotowski said. "It's hard to know what the ultimate cost will be."
Those concerns help explain why Bank of America's stock sank nearly 5 percent to $7.53 a share on Wednesday, even though profits were better than expected.
The bank also reported some weakness in its revenue. For the second quarter, Bank of America's revenue totaled $22.2 billion, slightly less than expected and below the level in the first quarter this year.
The result was a sign of the pressures big banks face in expanding their business amid a weak economy and tighter regulations. But Bank of America was able to offset those challenges with savings elsewhere.
And the latest figures stand in sharp contrast to Bank of America's results in the period a year earlier, when huge mortgage-related charges contributed to a loss of $8.8 billion, or 90 cents a share.
Much of the losses from soured mortgages comes from from Bank of America's disastrous acquisition of Countrywide Financial, a leading subprime lender, in 2008. Bank of America officials say the mortgage defaults stem largely from economic weakness, not failures in terms of how the mortgages were underwritten or packaged and sold to investors.
Bank of America officials add that the bank has nearly $16 billion set aside to cover put-back claims, and also note that the $22 billion figure reflects the total value of the mortgages, not what the bank is likely to have to pay out to investors.
Despite the pressure, Bank of America said the number of mortgages more than 60 days late actually declined in the second quarter, a sign of healthier conditions for borrowers.
Overall credit losses in the second quarter dropped to $1.7 billion from $3.25 billion in the period a year earlier, reflecting what the company said were improving credit conditions for businesses and consumers as well as tighter lending standards.
In addition, the bank raised its projected cost-cutting targets under its "New BAC" restructuring initiative, predicting an additional $3 billion in savings by mid-2015.
Bank of America is in the midst of cutting more than 30,000 workers as New BAC goes into effect. As of June 30, its head count was down 3,228 to 275,460. The bank has 12,600 fewer employees than it did a year ago.
Bank of America's results were more straightforward than in recent quarters, when one-time gains and losses made it difficult to gauge the bank's underlying performance.
Also on a positive note, the bank managed to strengthen its balance sheet, which had been a worry of investors last year, when its stock briefly fell below $5 a share. The company says its Tier 1 capital ratio under the Basel III agreements now stands at 8.1 percent, putting it ahead of the company's earlier goal of 7.5 percent by the end of 2012.
Strengthening the bank's underlying capital position while slimming down and cutting costs have been prime goals for the bank's chief executive, Brian Moynihan.
We're starting to see results from the New BAC program," Mr. Moynihan said during a call with analysts Wednesday. "We continue to have work to do."
Profit was also bolstered by so-called reserve releases, when the bank reverses earlier charges for possible credit losses and adds the savings to the bottom line. In this case, of the $2.5 billion profit in the second quarter, $1.9 billion came from reserve releases.
While it was solidly profitable, the company's global markets unit, which includes much of Bank of America Merrill Lynch, saw revenues and profit drop from the first quarter and the same period a year ago.
The company attributed the slowdown to the economic problems shaking the eurozone, and the anemic economic environment. The global markets unit earned $462 million, down from $911 million in the second quarter of 2011.
"What was driving earnings were reduced credit losses and lowered expenses but revenue growth remains exceptionally weak," said Shannon Stemm, a banking analyst with Edward Jones Company.
Ms. Stemm said she was also concerned about rising put-back claims.
Government-controlled mortgage giants like Fannie Mae and Freddie Mac want the company to buy back $11 billion in bad mortgages, up from $8.1 billion in the first quarter.
Meanwhile, private investors are seeking $8.6 billion in buybacks, up from $4.9 billion.Insurers are demanding an additional $3.1 billion.
Article source: http://dealbook.nytimes.com/2012/07/18/bank-of-america-2nd-quarter-profit-of-2-5-billion-beats-estimates/?partner=rss&emc=rss