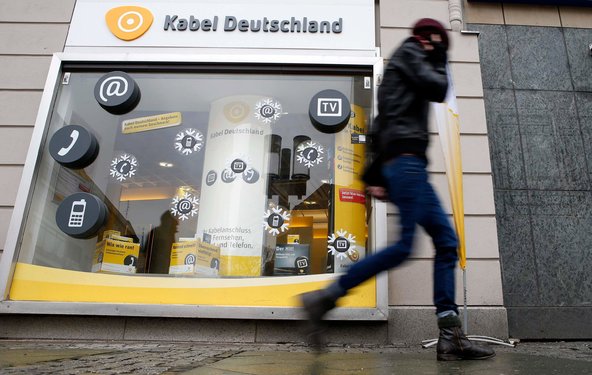 Fabrizio Bensch/ReutersA branch of the cable operator Kabel Deutschland in Berlin.
7:56 a.m. | Updated
LONDON – The British wireless giant Vodafone said on Wednesday that it had approached the German cable operator Kabel Deutschland over a potential takeover that could be worth more than $10 billion.
An acquisition would allow Vodafone, which owns 45 percent of Verizon Wireless, to expand its current cell phone operations in the fast-expanding cable and television market in Germany. A potential deal would also offset increasing competition from cable providers that are looking to increase their own cell phone services.
"This is a defensive move for Vodafone," said Andrew Hogley, a telecoms analysts with Espirito Santo, in London. "They are trying to keep up with Deutsche Telekom that can already offer integrated services like cable, mobile phone and landline services."
Vodafone, however, may face stiff competition from rivals, including John C. Malone's Liberty Global that already operates Germany's second-largest cable company.
Mr. Malone's company has just completed its $16 billion acquisition of the British cable operator Virgin Media, and is focusing on Germany and its strong economic growth as a major part of its European expansion.


"The only other serious bidder would be Liberty Global," said Mr. Hogley of Espirito Santo. "The German market is a top priority for these companies."
For potential acquirers, Kabel Deutschland could be a target too good to pass up.
The Germany company is the country's largest cable operator with around 8.5 million customers. Its current market capitalization totals 7.1 billion euros, or $9.4 billion, though analysts said any suitor would likely have to pay more than $10 billion to acquire Kabel Deutschland.
Vodafone is particularly interested in the company's extensive cable television and broadband services, which would allow it to offer a combination of fixed-line, cell phone, television and Internet services, according to Ulrich Trabert, an analyst with the private bank Bankhaus Metzler in Frankfurt.
"This is not just about enhancing Vodafone's mobile business," Mr. Trabert said.
"This is about expanding Vodafone's German market depth in TV and Internet.''
Because Vodafone and Kabel Deutschland's combined market share in landline broadband Internet would still be much less than that of the market leader, Deutsche Telekom, which has about 44 percent, there are not likely to be any anti-trust concerns, Mr. Trabert added.
"Deutsche Telekom, because of its dominance in broadband Internet would be prevented from doing anything by German regulators,'' he said.
Kabel Deutschland's shares rose 9 percent in afternoon trading in Frankfurt on Wednesday. Vodafone's stock price fell 4.4 percent in afternoon trading in London.
The potential deal would be Vodafone's largest acquisition since it bought a controlling stake in Hutchison Essar of India for $11 billion in 2007. The British telecommunications company, which has operations ranging from India to New Zealand, became a global player during the late 1990's through a number of successful deals, capped by the $183 billion acquisition of the German wireless rival Mannesmann in 2000.
Representatives for Vodafone and Kabel Deutschland declined to comment further on the prospective deal. Both companies said that the discussions were at an early stage and may not lead to an official bid.
The move for the German cable operator is the latest in a number of acquisitions in Europe's telecommunications and cable, as rivals like Mr. Malone's Liberty Global and the Mexican billionaire Carlos Slim Helú jockey to buy assets.
Despite Europe's sluggish economy, local consumers are using increasingly large amounts of data services, like superfast broadband and 4G cell phone packages, on which companies can charge a premium.
To tap into this growing market, Liberty Global has said it is looking to buy further assets in Europe, while Mr. Slim, who operates an extensive cell phone network across Latin America, has been increasing his stakes in European wireless carriers, including the Dutch company telecoms company KPN.
(Mr. Slim also owns a minority stake in The New York Times Company.)
Vodafone, one of the world's largest cell phone operators, also has come under increasing scrutiny as speculation persists that its partner in the United States, Verizon, may buy out Vodafone's minority stake in their cell phone joint venture, Verizon Wireless, for more than $100 billion.
By taking control over Kabel Deutschland, analysts said that the British telecommunications company could increasingly compete with local rivals by adding cable services to existing cell phone and fixed-line offerings in Germany.
Last month, Vodafone, which has more than 30 million customers in Germany, signed an agreement with its German competitor Deutsche Telekom to gain access to its local fixed-line network to offer Vodafone's customers high-speed broadband.
Article source: http://dealbook.nytimes.com/2013/06/12/vodafone-approaches-german-cable-giant-over-potential-deal/?partner=rss&emc=rss