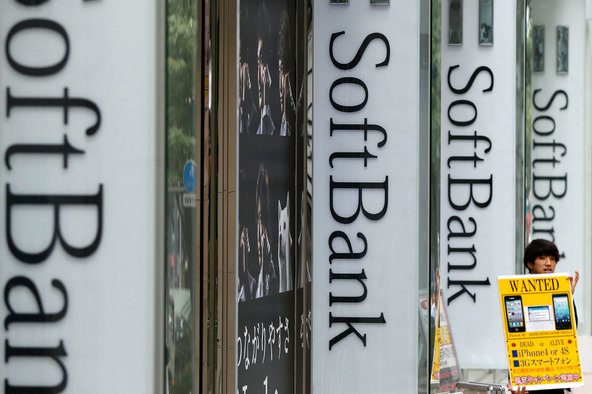 Toru Hanai/ReutersA SoftBank branch in Tokyo.
9:58 p.m. | Updated
SoftBank of Japan agreed late on Monday to sweeten its takeover bid for Sprint Nextel to $21.6 billion, seeking to block a rival bid by Dish Network.
Under the revised terms of the complex transaction, SoftBank agreed to shift over about $1.5 billion earmarked for Sprint itself to the company's shareholders instead. Existing investors can now sell their shares at $7.65 apiece, up nearly 5 percent from the first offer.
Related Links
All told, the new offer is valued at about $7.48 a share, up almost 19 percent from the original bid. SoftBank would own about 78 percent of Sprint if the deal is approved.
Sprint added that it had ended sales talks with Dish, which surprised many in April by offering $25.5 billion for all of the cellphone service provider, or about $7 a share. In a statement, Sprint said that its newer suitor has failed to put forward an acceptable formal bid despite weeks of conducting due diligence.
The new proposal by SoftBank, cobbled together largely over the weekend, is aimed at preserving SoftBank's biggest gamble: buying control of Sprint to challenge the existing titans of the American cellphone market, ATT and Verizon Wireless. Its plans included infusing Sprint with billions of dollars to build out a nascent high-speed data network.
SoftBank reiterated that it intended to invest $1.9 billion in Sprint if its deal closed, in addition to the $3.1 billion it already invested into the company.
The Japanese company has been frustrated by the emergence of Dish as a bidder, which has sought to stymie that plan on a number of fronts. Led by Charles W. Ergen, Dish network's chairman, has contended that its deal would create a new behemoth that could offer a variety of wireless services, like cellphone coverage and satellite TV.
Shares in Sprint have traded above SoftBank's previous offer, the result of investor dissatisfaction. The company's stock closed on Monday at $7.18, before the new proposal was revealed.
SoftBank is betting that its improved offer will knock out its rival. Among its advantages is the speed with which the deal can be closed: SoftBank expects to close the transaction early next month, while Dish would most likely need months to complete its bid.
"The amended agreement announced today delivers more upfront cash to Sprint stockholders, while still achieving our goal of creating a well-capitalized Sprint that is better positioned to bring meaningful competition to the U.S. market," Masayoshi Son, SoftBank's chief executive, said in a statement.
The deal has been approved by a special committee of Sprint's board. A vote on the proposed sale has been rescheduled from Wednesday to June 25.
The offer may be enough to win over Sprint investors who were skeptical of the previous bid. Paulson Company, the hedge fund that is the company's second-biggest shareholder, said in a statement that it would support the new SoftBank offer.
Still, Dish has until June 18 to propose an acceptable "best and final" bid. The amended agreement with SoftBank puts in place a number of additional restrictions, including forcing Dish to present fully committed financing and the adoption of defenses that would limit a hostile bid.
Article source: http://dealbook.nytimes.com/2013/06/10/softbank-raises-bid-for-sprint-to-21-6-billion/?partner=rss&emc=rss