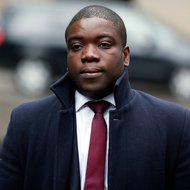 Stefan Wermuth/ReutersKweku Adoboli arriving at court in London on Tuesday. He was sentenced to seven years in jail.
LONDON — UBS is expected to face a multimillion-dollar fine in connection with the $2.3 billion trading loss caused by a former trader, according to two people with direct knowledge of the matter.
The potential fine by British authorities against the Swiss bank may be £30 million to £50 million, or $47 million to $80 million, and could be announced as early as next week, according to one person, who spoke on the condition of anonymity.
On Tuesday, the former UBS trader Kweku M. Adoboli received a seven-year jail sentence on two counts of fraud in connection with the loss for abusing his position at the Swiss bank from 2008 to 2011. Mr. Adoboli was found not guilty on another four counts of false accounting.
The Financial Services Authority, the British regulator, and the Swiss Financial Market Supervisory Authority opened a joint inquiry last year into the enormous trading loss. On behalf of the regulators, the accounting firm KPMG conducted a $20 million investigation into the internal failures at the Swiss bank that led to Mr. Adoboli's trading loss.
The potential penalty could be one of the largest fines levied by the Financial Services Authority of Britain. The regulator fined the British bank Barclays £59.5 million this year in connection with the manipulation of the London interbank offered rate, or Libor. JPMorgan Chase was also penalized £33.3 million in 2010 for failing to protect British clients' money from 2002 to 2009.
The Swiss regulator, which cannot levy fines, is expected to announce its own recommendations. Proposals could include stricter supervision for UBS in the near term.
UBS has dealt with a series of scandals since the financial crisis.
In 2009, the Swiss firm paid $780 million to settle allegations by American authorities that it helped wealthy clients evade United States taxes. The bank paid an £8 million fine to British regulators that year after an employee in the firm's London-based wealth management unit carried out unauthorized trades with clients' money. UBS also was forced to write down credit investments worth around $50 billion from 2007 to 2008.
In a bid to reduce its exposure to risky trading, the Swiss bank announced plans last month to eliminate up to 10,000 jobs in its investment banking unit. Last year, UBS announced a separate batch of 3,500 job cuts.
Sergio P. Ermotti, the bank's chief executive, is refocusing the firm's resources on its profitable wealth management unit, while responding to stricter regulatory capital requirements that has reduced the profitability of certain trading areas.
Up to 45 percent of the newly announced layoffs, or 4,500 people, are expected to be in London. A further 2,500 job losses will come from its Swiss operations, while the remaining layoffs would be borne by UBS's division in the United States.
Shares in UBS rose less than 1 percent in morning trading in Zurich on Friday.
Spokesmen for UBS and the Financial Services Authority declined to comment.
Article source: http://dealbook.nytimes.com/2012/11/23/ubs-said-to-face-fine-in-rogue-trader-scandal/?partner=rss&emc=rss