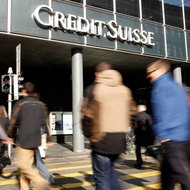 Arnd Wiegmann/ReutersCredit Suisse will announce its quarterly figures on July 26.
LONDON – Credit Suisse moved to calm investors' fears on Friday by announcing it expected to report a second-quarter profit.
The European financial giant did not provide specifics on its quarterly figures, which will be announced on July 26.
The statement comes a week after Credit Suisse responded to calls from Switzerland's central bank that the Swiss firm should increase its capital reserves this year because of Europe's debt crisis.
The Swiss National Bank had singled out Credit Suisse in its annual financial stability report as a bank that needs to "significantly expand its loss-absorbing capital during the current year." The country's central bank said Credit Suisse's local rival, UBS, should just continue with its efforts to strengthen its capital, the central bank said.
Credit Suisse dismissed the regulator's calls to strengthen the bank's cash buffers.
"The Board is confident that management's plans will continue to ensure that Credit Suisse not only fulfills, but exceeds its regulatory capital requirements," the bank said in a statement on June 22.
In early afternoon trading, the bank's share price rose 5.5 percent, as investors reacted positively to Credit Suisse's announcement that it was profitable in the second quarter of 2012.
Like many of Europe's largest banks, Credit Suisse has suffered from a reduction of trading activity and a fall in consumer and corporate spending amid the global financial crisis.
The Swiss bank's profit in the first three months of the year fell to 44 million Swiss francs,or $46 million, from 1.1 billion francs in the first quarter of 2011, mostly because of charges on the value on its own debt.
Article source: http://dealbook.nytimes.com/2012/06/29/credit-suisse-expects-profit-in-second-quarter/?partner=rss&emc=rss