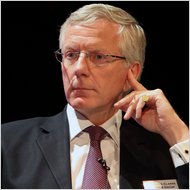 Sebastien Nogier/ReutersPeter Clarke, chief of Man Group.
LONDON – The Man Group, the world's largest publicly traded hedge fund manager, said on Monday that Peter Clarke would retire as chief executive at the end of February after almost 20 years with the firm.
The company, which has recently struggled to stem an outflow of client money, appointed its chief operating officer, Emmanuel Roman, to succeed Mr. Clarke. Mr. Clarke informed the board of his intention to retire, the company said in a statement.
Jon Aisbitt, the chairman, thanked Mr. Clarke for his service and for helping to diversify the group's business and cut costs at a time of "challenging trading conditions."

Outflows rose almost 60 percent, to $2.2 billion, in the third quarter after Man's flagship fund underperformed. Sales remained weak as clients shied away from moving their money because of Europe's debt crisis and uncertainty in the financial markets. As a result, the company had been adding to its funds through acquisitions. It acquired the FRM Holdings Group, a rival hedge fund investment manager, in May to add about $8 billion of funds under management.
The company also started a $200 million cost-cutting program, changed some senior managers and appointed Jonathan Sorrell, a former Goldman Sachs executive, as its finance director.

Still, investors remain concerned about the firm's finances, and its share price has dropped 38 percent this year. The share price rose 5.7 percent in London on Monday after the announcement.
Mr. Clarke said in the statement that he was "proud to have played a part in Man's transformation from a commodities trader and futures broker into one of the world's leading alternative asset managers."
Mr. Roman acknowledged that "these are tough times for the asset management industry," and he said he planned to strengthen relationships with clients and keep costs under control.
Mr. Roman's appointment, which is subject to approval by the Financial Services Authority, Britain's financial watchdog, is the result of a "rigorous evaluation process" during which external candidates were also considered, Man said in a statement. Mr. Clarke is expected to work with Mr. Roman during a handover period.
Article source: http://dealbook.nytimes.com/2012/12/10/man-group-c-e-o-to-step-down/?partner=rss&emc=rss