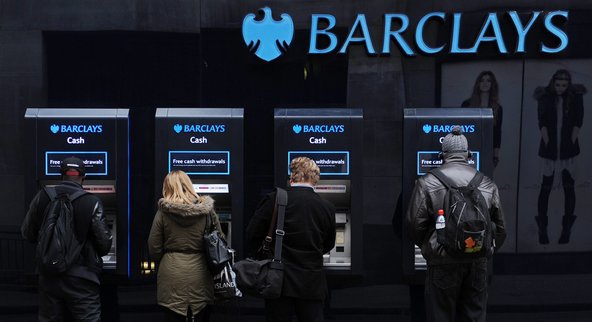 Andy Rain/European Pressphoto AgencyA branch of Barclays in London.
LONDON – Barclays said Friday that 428 employees earned more than £1 million, or $1.5 million, each last year, but the number was down from 2011 as the British bank has been under fire over several scandals.
Barclays said 45 fewer people earned more than £1 million in 2012 than year earlier. Rival HSBC said Monday that 204 members of its staff fell into that pay bracket. Barclays paid five bankers more than £5 million each last year, down from 17 in 2011, according to the bank's annual report published Friday.
Last year was financially difficult for Barclays as it recorded a loss for 2012 and found itself embroiled in several investigations that have dented its reputation. At a time when banks are under pressure to curb pay after disappointing earnings, Barclays said it was cutting remuneration and changing the criteria for awarding bonuses. Staff members will be evaluated against a set of standards, including integrity, put together by the bank's chief executive, Antony Jenkins.
At a recent meeting with investors, Mr. Jenkins, who took over as chief executive in August, also hinted that more job cuts could be in store for Barclays. Talking about his priority to reduce costs and use more computer programs and technology to do so, he said that the bank could be looking for a way to operate with as few as 100,000 staff members over the next decade or so, according to a person with direct knowledge of his comments, who declined to be identified because the comments were not made in public. Barclays currently employs about 140,000.
"We have been justifiably criticized for failures to engage effectively with and explain our decisions to shareholders and the wider public," John Sunderland, chairman of the board remuneration committee, wrote in the latest annual report. "We must also ensure that we pay no more than necessary to achieve Barclays objectives, and that we eliminate undeserved remuneration."
Luke Macgregor/ReutersBarclays' chief, Antony Jenkins, recently hinted that more job cuts could be in store for the bank.
Barclays started a wide-ranging cost reduction program that includes cutting 3,700 jobs and closing some business units and branches. The bank reported a net loss last month of £1 billion for last year, compared with a £3 billion profit for 2011, because of provisions to cover legal costs related to the rate-rigging scandal and other improper activities.
Barclays has also recently clawed back £300 million of deferred bonuses because of the bank's involvement in the scandals that also led to the resignation of Robert E. Diamond Jr. as chief executive. Barclays was forced to compensate customers for selling some insurance products they did not need or ask for and was fined $450 million in June for its role in the manipulation of the London interbank offered rate, or Libor.
Barclays said it paid executive directors in total in 2012 less than half of what they received a year earlier. Mr. Jenkins bowed to public pressure and announced earlier that he would not take an annual bonus for 2012. His total remuneration was £2.6 million for last year, including £833,000 in salary and £1.5 million as part of a long-term incentive plan. Mr. Diamond earned £6.3 million in 2011, according to the report.
Article source: http://dealbook.nytimes.com/2013/03/08/fewer-barclays-employees-made-more-than-1-million/?partner=rss&emc=rss