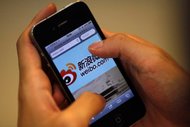 Carlos Barria/ReutersAlibaba is taking an 18 percent stake in Sina Corporation's Weibo, the most popular of China's microblogging services.
5:32 p.m. | Updated
The Internet giant Alibaba was once known as China's answer to eBay. Now it is forging closer ties to the country's counterpart to Twitter.
Alibaba agreed on Monday to buy an 18 percent stake in the Sina Corporation's Weibo, the most popular of China's microblogging services, for $586 million. It has the right to raise its stake to 30 percent in the future.
The deal values Weibo at about $3.3 billion — equivalent to Sina's entire market value as of Friday.
Alibaba and Sina also agreed to cooperate in improving ways to marry social networking with e-commerce, as microblogging services like Sina's continue to grow in popularity. Sina Weibo said that last year it had more than 46 million daily active users, an increase of 82 percent from the period a year earlier.
That remains a fraction of Twitter's user base, however. And a recent study of about 30,000 Sina Weibo users found that about 57 percent of the sampled accounts had no measurable activity or posts.
Alibaba continues to grow, most recently being valued by analysts at more than $55 billion. It has reshuffled its management ranks ahead of a much-anticipated initial public offering that could come as soon as this year.
The growth of social networking and its close ties to the continuing boom in mobile Internet usage have prompted a natural response: how to make money from the phenomenon. Sina and Alibaba expect their efforts to yield about $380 million in advertising and commercial revenue for the Weibo service over the next three years.
"We believe that the cooperation of our two robust platforms will bring unique and valuable services to Weibo users, as well as making the mobile Internet a core part of Alibaba's strategy," Jack Ma, the Alibaba chairman, said in a statement.
Article source: http://dealbook.nytimes.com/2013/04/29/alibaba-buys-stake-in-sina-weibo-a-chinese-answer-to-twitter/?partner=rss&emc=rss