Related Links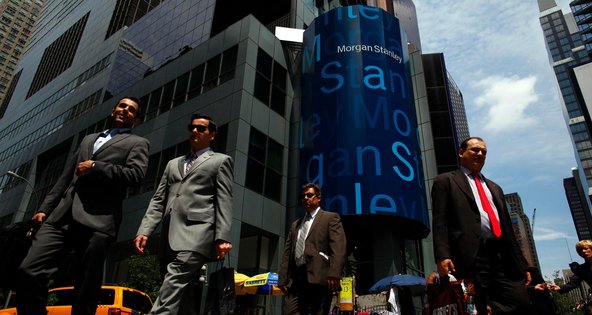 Eric Thayer/ReutersMorgan Stanley's headquarters in Manhattan. The bank is transforming into a smaller, safer company that takes fewer risks.
5:30 p.m. | Updated
While many banks are getting battered by the trading slump, Morgan Stanley is feeling the pain more acutely.
On Thursday, the bank reported a 24 percent drop in revenue for the second quarter, driven by a significant decline in bond, currency and commodity trading.
Wall Street banks have faced a largely inhospitable environment in recent years, racked by economic uncertainty, the European debt crisis and a new regulatory system. But Morgan Stanley has been trying to navigate the market while also working to transform itself by shedding riskier businesses and building its steadier wealth management arm.
The bank had started to show signs of improvement in previous quarters, but then it got buffeted by the recent trading downdraft. For the quarter, Morgan Stanley reported that earnings came in at 29 cents a share, widely missing the 43 cents a share that analysts had expected. It posted a loss in the same period of 2011.
The bank also faced the repercussions from a recent credit rating downgrade. The bank was forced to post $2.9 billion in additional money to back its trades in the quarter, after Moody's Investors Service cut its rating by two notches.
The results spooked investors. On a day when the market was up, shares of Morgan Stanley fell as much as 7 percent before recovering slightly to finish the day down 5.3 percent at $13.25.
Glenn Schorr, an analyst at Nomura, wrote in a research note that it was "hard to pick out too many positives" from the firm's quarterly results.
And Howard Chen of Credit Suisse described the quarter in a report to investors as "weak and disappointing."
As the bank looks to bolster its profit, Morgan Stanley has taken steps to clamp down on expenses and head count. On Thursday, James P. Gorman, Morgan Stanley's chairman and chief executive, said that the firm expected to shrink its employee base by 7 percent by the end of the year.
The firm is also seeking to cut other expenses, including by moving some staff to cheaper locations like Baltimore and Glasgow, and being more selective in filling positions.
"Although global economic uncertainty remains a headwind, we are proactively positioning the firm for success," Mr. Gorman said in a statement. "We continue to be focused on taking the necessary steps to deliver strong returns for our shareholders."
Even so, the bank faced headwinds, particularly in trading. In fixed income, Morgan Stanley has tried to simply its offerings, moving away from complicated and capital-intensive products that can prove risky in tough environments.
But the "challenging macro backdrop" weighed on profits, Ruth Porat, the bank's chief financial officer, said in a telephone interview.
With the European debt crisis heating up, investors became increasingly uncertain and trading volume plummeted. Revenue in fixed income fell by 60 percent in the second quarter, to $770 million, a drop that outstrips competitors.
Morgan Stanley is also dealing with the fallout from the credit downgrade. In February, Moody's put big banks on warning, with Morgan Stanley facing a potential three-notch downgrade.
Some clients pulled back, as they waited for Moody's to complete its review, Ms. Porat said.
It only added to the bank's pain that the rating agency delayed the results, she added. In June, Moody's ended up cutting the firm's rating by two levels.
"As the month wore on, clients took a wait-and-see attitude," she said. "Time was not our friend."
Other businesses suffered as well. Advisory revenue was halved from the year-ago period, to $263 million, as fewer corporations pursued mergers or sales of stocks and bonds.
Still, Mr. Gorman highlighted the division's performance, pointing to big mandates like leading Facebook's initial public offering. (The firm has defended its work taking Facebook public, but the social networking company's stock has fallen 24 percent since the initial public offering in May.)
Morgan Stanley did have one area that posted a gain, the global wealth management group that now includes Morgan Stanley Smith Barney. The unit reported a 23 percent gain in pretax income, to $393 million, although net revenue declined slightly.
The weakness is reducing its profitability. The bank's return on equity now stands at 3.5 percent, down from 12.2 percent in 2010. Goldman Sachs, one of the firm's competitors, said this week that its 5.4 percent return on equity was "unacceptable."
Revenue in Morgan Stanley's second quarter was $6.95 billion, down from $9.2 billion.
---
This post has been revised to reflect the following correction:
Correction: July 19, 2012
An earlier version of this post misstated the drop in Morgan Stanley's revenue as 35 percent, not 24 percent.
Article source: http://dealbook.nytimes.com/2012/07/19/morgan-stanley-swings-to-profit-but-revenue-falls/?partner=rss&emc=rss