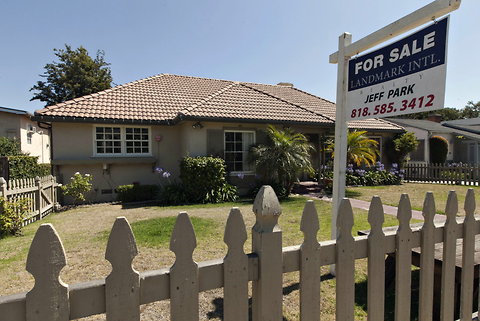 Associated PressA home for sale in Los Angeles.
Improvement in the nation's housing markets has helped ease consumer financial woes, according to a quarterly report from a large credit counseling agency.
For the first time in nearly four years, the Consumer Distress Index, published by the nonprofit agency CredAbility, showed that  consumers nationally were inching their way out of financial distress.
The index tracks the financial condition of American households by measuring employment, housing, credit, household budget management and net worth. United States households scored a 71.3 on the 100-point index, an increase of 1.4 points from the first quarter. Scores below 70 indicate financial distress. The last time the index topped 70 was in the third quarter of 2008.
Housing was the main driver of consumers' improved financial condition this quarter, according to Mark Cole, the agency's executive vice president and chief operating officer. Late payments on mortgages reached a three-year low, and housing costs dropped as many homeowners cut their payments by refinancing.
The average household also kept a tighter rein on its budget, which helped drive the savings rate to a one-year high in June. Net worth also ticked up.
The index's unemployment score improved by only a half-point, however, to 59.8 from 59.4, and continued to drag down the index. Although 381,000 jobs were added during the quarter, joblessness remained the same as more people who had given up looking began seeking work again.
Whether the overall gains persist, in light of continued economic uncertainty and the political headwinds of an election year, remains to be seen, Mr. Cole said. "This really is very fragile in nature."
This quarter's report also includes information on metropolitan areas. Several large areas remain in distress. Orlando, Fla., suffering from both housing woes and stubborn unemployment, is the most distressed city, followed by Tampa-St. Petersburg in Florida, Riverside-San Bernardino in California, Las Vegas and Miami-Fort Lauderdale. Among the 30 largest metropolitan areas, the healthiest cities are Boston, Washington, D.C., Minneapolis-St. Paul, Dallas-Fort Worth and Denver.
Are you feeling less distressed financially? Why or why not?
Article source: http://bucks.blogs.nytimes.com/2012/08/29/housing-market-improvements-lessen-consumer-distress/?partner=rss&emc=rss