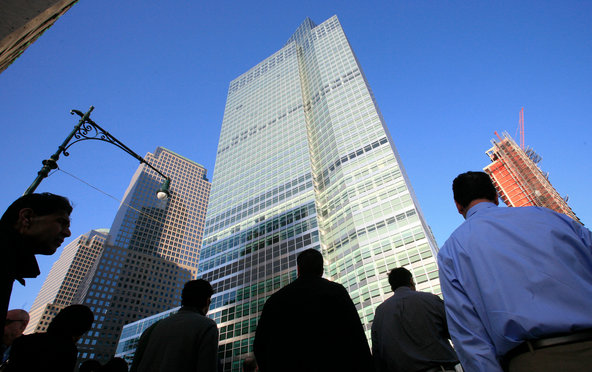 Mark Lennihan/Associated PressThe headquarters of Goldman Sachs in Manhattan.
10:01 a.m. | Updated
The spate of strong bank earnings continues.
On Tuesday, Goldman Sachs reported first-quarter profit of $2.2 billion, or $4.29 a share, driven by strength in its investment banking business as well as its investing and lending unit.
Across Wall Street, banks are showing signs of strength. Last week, JPMorgan posted a 33 percent jump in quarterly profit, to $6.53 billion. Profit at Wells Fargo rose 22 percent, to $5.17 billion. Citigroup profit surged by 30 percent while BlackRock earnings were up 10 percent.
Goldman, like other banks, is benefiting from the ongoing improvement in the markets and the economy. While banks are adjusting to new regulation, they are finding new ways to bolster profit and cut costs, helping to drive record profit.
Goldman's results were up from the year-ago period and well ahead of analysts' expectations of $3.89 a share, according to Thomson Reuters. Earnings per share were up 9 percent compared with the period a year earlier. Goldman shares, however, were down 2 percent in morning trading to around $143.50 a share on a day when the broader market was up.
Analysts had been anticipating a fairly decent quarter for Goldman, in part because many of its rivals have posted strong results in their investment banking and securities divisions.
Related Links
"Our strong client franchise across our businesses drove generally solid results. Still, the potential for macroeconomic instability was felt in the quarter and constrained overall corporate and investor activity. We continue to be very focused on controlling our costs and efficiently managing our capital," Goldman's chairman and chief executive, Lloyd C. Blankfein, said in a statement.
The firm reported $10.1 billion in revenue in the quarter ended March 31, almost flat from levels a year ago, when revenue came in at $10 billion. Analysts had been forecasting revenue of $8.35 billion.
Net revenue in Goldman's powerful division that trades bonds, currencies and commodities was somewhat disappointing after it fell 7 percent, to $3.2 billion, from the period a year earlier. The firm said net revenues were lower in most businesses, "primarily reflecting significantly lower net revenues in interest rate products compared with a strong first quarter of 2012."
The firm's investing and lending operations, however, did quite well, posting revenue of $2.07 billion, up 8 percent from the period in 2012. Goldman said this unit benefited from an increase in equity prices and a $24 million gain from the firm's stake in the Industrial and Commercial Bank of China, a strategic investment Goldman made in 2006.
Goldman's investment banking division also weighed in with strong results, as revenue increased 36 percent, to $1.57 billion. The firm said the unit enjoyed a lift from record debt underwriting results as a result of leveraged finance and commercial mortgage-related activity. The bank added that revenue in equity underwriting was also "significantly higher compared with the first quarter of 2012, reflecting an increase in client activity."
The firm's annualized return on equity, a key financial measure watched by investors, was 12.4 percent in the quarter, roughly the same as it was in the year-ago period. Although the figure was not as strong as it was before the financial crisis when firms like Goldman were able to produce outsize returns by using unheard levels of borrowed money, it's still ahead of some of the firm's rivals.
Goldman is one of a number of Wall Street banks releasing earnings this week. Morgan Stanley will round out bank earnings season on Thursday. Analysts polled by Thomson Reuters are expecting that firm to earn 57 cents a share.
Since the financial crisis, Goldman and other firms have been working hard to cut expenses. The bank had 32,000 employees at the end of the quarter, 400 fewer than at the end of 2012.
The firm set aside $4.3 billion to pay employees, or 43 percent of its revenue, which was in line with previous quarters. The compensation amount is set aside quarterly but not paid out until the fourth quarter, when the firm's full-year results are known.
Article source: http://dealbook.nytimes.com/2013/04/16/goldman-sachss-first-quarter-profit-beats-estimates/?partner=rss&emc=rss