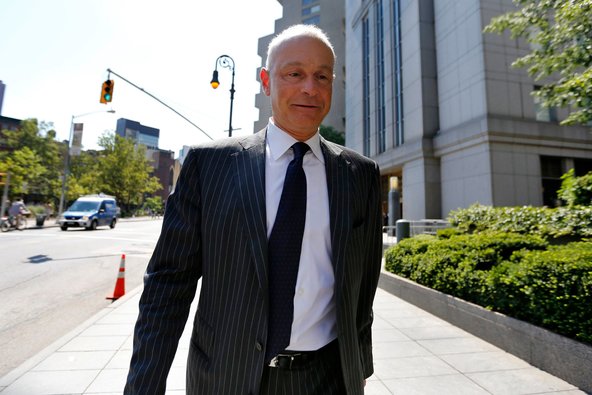 Brendan McDermid/ReutersPaolo Pellegrini, formerly of Paulson Company, seemed to disappoint the S.E.C. on the stand.
Paolo Pellegrini has been lauded as an architect of one of the biggest hedge fund victories in recent memory: Paulson Company's audacious bet against subprime home loans in 2007.
But in a Manhattan federal courtroom on Tuesday, Mr. Pellegrini professed not to know what one of the basic acronyms of the industry meant.
During questioning by a government lawyer, Mr. Pellegrini said that he was not sure what "C.D.O." — the type of security, which the hedge fund stalwart helped construct, that is at the heart of the government's civil lawsuit against a former Goldman Sachs employee — stood for. After several minutes of verbal sparring, he conceded that it might stand for "collateralized debt obligation."
Related Links
Over around two hours of testimony, Mr. Pellegrini, a tall, imposing investment executive, repeatedly paused and claimed he could not remember what he previously said. At one point, he complained that his questioner, Matthew T. Martens of the Securities and Exchange Commission, was being too imprecise in his queries, making them hard to answer. "It's a bit of a trick question, but I'll try to answer it," he said.
The S.E.C. had hoped that Mr. Pellegrini would be one of the top witnesses of the trial. His employer at the time, Paulson Company, profited handsomely from the investment product that Goldman had created, yielding about $1 billion.
Mr. Pellegrini at one point spent about 10 minutes bickering with Mr. Martens over the definition of a "custom C.D.O."
Later, Mr. Pellegrini sighed, "I am upset about this conversation."
The testimony represented some of the liveliest moments yet in the trial of Fabrice P. Tourre, 34, whom the government has accused of defrauding investors as part of Goldman's mortgage desk in 2006 and 2007. The S.E.C.'s lawsuit over Mr. Tourre's role in the construction of a complex mortgage investment that ultimately failed has made him a prominent face of the government's investigation into the financial crisis.
Much of Mr. Martens's questioning sought to show that the financial firms responsible for constructing the mortgage securities were wary of working with hedge funds like Paulson Company that wanted to bet virtually exclusively against the investments' success.
In 2010, Goldman agreed to settle an S.E.C. lawsuit by paying a $550 million penalty while admitting that it made a "mistake" in not disclosing that "that Paulson's economic interests were adverse to C.D.O. investors."
Both Mr. Pellegrini and Sihan Shu, a managing director at Paulson, testified that the firm was interested only in wagering that home loans would falter, wiping out the value of debt instruments built from those mortgages. Mr. Pellegrini acknowledged that the firm raised two funds to carry out its bet against home loans. Mr. Pellegrini is expected to be just the first in a series of prominent witnesses. His cross-examination by Mr. Tourre's lawyers is scheduled for Wednesday. It will be followed by testimony from two of Mr. Tourre's former bosses at Goldman.
Jurors sometimes appeared to struggle with the discussions on Tuesday, which were often laden with financial jargon. Lawyers for Mr. Tourre made it a point of explaining some terms at the beginning of the day's proceedings, including "Q.I.B.'s," which stands for "qualified institutional buyers," and "single-tranche C.D.O.'s." Still other arcana, like "WARF scores" and "Libor," received minimal explanation.
Though some jurors scribbled diligently in their notepads, others appeared to nod off from time to time.
The presiding judge, Katherine B. Forrest, took an active role in both ensuring that jurors were aware of the various legal proceedings and in keeping the trial on its three-week schedule.
She was also quick to mediate disputes between the government and Mr. Tourre's lawyers, sometimes rephrasing objected questions to witnesses to speed things along.
Article source: http://dealbook.nytimes.com/2013/07/16/top-witness-for-the-s-e-c-turns-testy-on-the-stand/?partner=rss&emc=rss