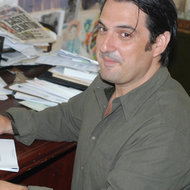 John Anderson/Wellsville Daily ReporterPaul Ceglia, who claimed he owns half of Facebook, at home in 2010.
The lawyer representing a man claiming to own a substantial stake in Facebook withdrew from the case on Tuesday, just a day after he defended his client in an interview with The New York Times.
Federal prosecutors arrested the entrepreneur, Paul Ceglia, last week on fraud charges, accusing him of forging the e-mails and contract that supported his two-year-old claim against the social networking giant.
Dean Boland, the lawyer for Mr. Ceglia, notified the court that he was dropping out of the civil lawsuit. His reasons for withdrawing were filed under seal, but in the public portion of his filing, Mr. Boland supported his client.
"The undersigned feels it is important to emphasize in the strongest terms possible, that the reasons underlying this request, provided to the court for its review, have nothing to do with any belief by the undersigned that plaintiff is engaged in now or has been engaged in during the past, fraud regarding this case," Mr. Boland wrote.
In an interview with The Times on Monday, Mr. Boland backed his client's claims and said he would continue to pursue the case against Facebook. He said that the government's criminal charges would help his client's cause because it suggested that some of Mr. Ceglia's evidence was authentic.
Prosecutors say that Mr. Ceglia, 39, of Wellsville, N.Y., filed a spurious lawsuit claiming that Mr. Zuckerberg, as Harvard freshman in 2003, promised him an at least 50 percent in the social network, and that he doctored, fabricated and destroyed evidence to support his claims.
"Ceglia's alleged conduct not only constitutes a massive fraud attempt, but also an attempted corruption of our legal system through the manufacture of false evidence," Preet Bharara, the United States attorney in Manhattan, said in a statement. "Dressing up a fraud as a lawsuit does not immunize you from prosecution."
Mr. Ceglia has been detained since his arrest on Friday and is expected to make an appearance and enter a plea in Federal District Court in Buffalo on Wednesday. A federal public defender represents him in the criminal case.
Mr. Boland is the latest lawyer to withdraw from his civil case.
Mr. Ceglia's lawyers since 2010 have included Robert W. Brownlie of DLA Piper, the world's largest law firm, and Dennis C. Vacco, a former New York attorney general now in private practice. Mr. Brownlie and Mr. Vacco dropped out of the case after Kasowitz Benson Friedman Torres, another law firm that had briefly represented Mr. Ceglia, notified them that it believed Mr. Ceglia's supposed contract with Mr. Zuckerberg was a sham.
Mr. Brownlie, who last year staunchly defended the legitimacy of his client's claims to The Times, has not returned multiple calls and e-mails seeking comment. Mr. Vacco declined to comment, citing attorney-client privilege.
In his withdrawal filing on Tuesday, Mr. Boland, of Lakewood, Ohio, said that no one had proved that Mr. Ceglia's claims were fraudulent.
"Myself and prior counsel all have and had a duty to bring to this court any evidence of fraud, even fraud by our own client, should we have come across it," wrote Mr. Boland. "No prior counsel and current counsel, including the undersigned, have done so. The undersigned, at no time, has encountered evidence of fraud by plaintiff."
Facebook's lawyers at Gibson, Dunn Crutcher have suggested that Facebook could pursue disciplinary claims against some of the lawyers that represented Mr. Ceglia.
"Now that Ceglia is being brought to justice for his crimes, Facebook intends to hold accountable all of those who assisted Ceglia in this outrageous fraud," Orin Snyder, a partner at Gibson Dunn, said in a statement. "Facebook will send a strong message that it does not tolerate legal shakedowns and will take aggressive action against all those who file abusive lawsuits against the company."
Article source: http://dealbook.nytimes.com/2012/10/30/lawyer-withdraws-from-case-by-man-claiming-facebook-ownership/?partner=rss&emc=rss