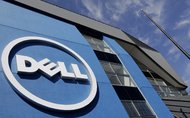 Paul Sakuma/Associated PressDell on Friday filed its definitive proxy materials with the Securities and Exchange Commission.
Dell Inc. on Friday began its official campaign to support a proposed $24.4 billion sale of itself to Michael S. Dell and the investment firm Silver Lake, amid continued opposition to the deal.
The computer company filed its definitive proxy materials after receiving final approval from the Securities and Exchange Commission. And it set July 18 as the date for a shareholder vote on the transaction.
In a letter to shareholders, the company stressed that its special committee had carefully reviewed all possible alternatives to the $13.65-a-share offer by Mr. Dell and Silver Lake and fought hard to get to that price.
"Our analysis led us to conclude unanimously that a sale to the Michael Dell/Silver Lake group for $13.65 per share is the best alternative available — in a challenging business environment it offers certainty and a very material premium over pre-announcement trading prices," the company wrote.
Dell also argued that a full sale eliminates shareholders' risk of the company's fortunes tumbling further, something that would not be possible if it pursued a huge stock buyback and dividend plan. That runs counter to what two of its biggest investors, Southeastern Asset Management and the billionaire Carl C. Icahn, have demanded.
Article source: http://dealbook.nytimes.com/2013/05/31/dell-begins-campaign-to-support-leveraged-buyout/?partner=rss&emc=rss