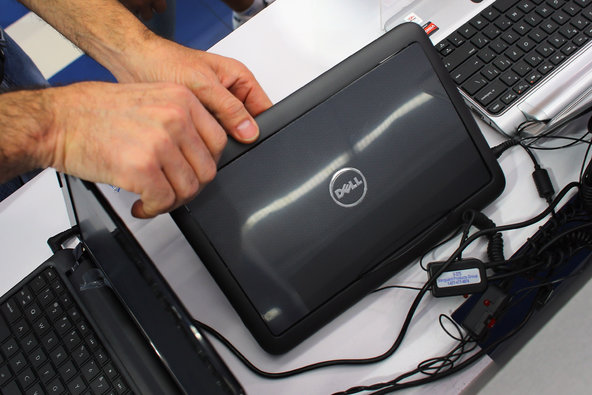 Joe Raedle/Getty ImagesDell's founder, Michael S. Dell, and the investment firm Silver Lake are offering to take the company private in a $24.4 billion deal.
10:25 a.m. | Updated
The Blackstone Group has walked away from the bidding for Dell, the computer maker confirmed on Friday.
The private equity giant, along with a separate bidder, the activist investor Carl C. Icahn, had been inspecting the books of the personal computer maker before deciding whether to make a rival bid to the $13.65-a-share offer to take the company private from the company's founder, Michael S. Dell, and Silver Lake Partners, a technology-focused private equity firm.
Blackstone decided to withdraw after discovering that Dell's business was deteriorating faster than it previously understood, according to a letter sent to the special committee of Dell's board on Thursday. Among the reasons Blackstone cited include "an unprecedented 14 percent market decline in PC volume in the first quarter of 2013, its steepest drop in history, and inconsistent with management's projections for modest industry growth."
The personal computer industry has been grappling with falling prices and with competition from smartphones and tablets. Its weakness was vividly illustrated by a report last week by the International Data Corporation that showed a sharp drop in global sales.
PC unit sales overall in the United States fell 12.7 percent in the first quarter from a year earlier, according to the report. At Dell, United States shipments were down 14 percent, while worldwide shipments were down more than 10 percent.
Blackstone, which had been working with the investment firms Francisco Partners and Insight Venture Partners, last month outlined an offer of more than $14.25 a share for control of Dell, but not for the whole company. Part of Dell, under that scenario, would still be publicly traded in what is known as a stub.
From the beginning, there had been dissension within Blackstone about whether it should pursue an offer, people close to the firm said. Blackstone, worried that they would be used as a stalking horse, negotiated with Dell's special committee to reimburse the firm for its costs related to pursuing a bid whether it ultimately made a binding bid or not.
The withdrawal of Blackstone leaves Mr. Icahn as the only potential rival to the $24.4 billion buyout proposal from Mr. Dell and Silver Lake.  Shares of Dell fell more than 3 percent in trading on Friday morning.
On Tuesday, the Dell special committee announced that it reached an agreement with Mr. Icahn that limits his ownership stake in the company while allowing him to contact other shareholders about a possible bid for the computer maker.
Mr. Icahn has previously outlined an offer of $15 a share for about 58 percent of the company. Under that plan, he would have a 24.1 percent stake in Dell.
"My affiliates and I expect to engage in meaningful discussions with other Dell shareholders, discussions that we believe will help to facilitate alternatives to the existing transaction with Michael Dell," Mr. Icahn said in a statement on Tuesday.
Mr. Icahn and Blackstone were the only two preliminary bidders to emerge last month from the special committee's process of soliciting potential alternatives, in what is known as a "go-shop."
On Friday, a Dell spokesman said, "As the board's special committee continues to oversee its process to ensure the best possible outcome for Dell shareholders, we remain focused on our customers and on providing innovative products and solutions to help them succeed."
Blackstone's letter to Dell's special board committee is below:
Boulder Acquisition Corp.
c/o Blackstone Management Partners L.L.C.

April 18, 2013
STRICTLY PRIVATE AND CONFIDENTIAL

Special Committee of the Board of Directors of Dell Inc.
One Dell Way
Round Rock, Texas 78682
Attention: Alex Mandl, Presiding Director

Dear Alex,

I want to thank you, the Special Committee, and its advisors for inviting us into the process and for granting us due diligence access to Dell Inc. I also want to express our gratitude to Michael Dell and the management team for spending time with us and providing us with information and data relating to the business plan and financial forecasts of Dell.

You have asked for an update of our views after the intensive due diligence that we just completed. While we still believe that Dell is a leading global company with strong market positions, a number of significant adverse issues have surfaced since we submitted our letter proposal to you on March 22nd, including: (1) an unprecedented 14 percent market decline in PC volume in the first quarter of 2013, its steepest drop in history, and inconsistent with Management's projections for modest industry growth; and (2) the rapidly eroding financial profile of Dell. Since our bid submission, we learned that the company revised its operating income projections for the current year to $3.0 billion from $3.7 billion.

For the reasons set forth above, among other reasons, on behalf of Boulder Acquisition Corp., Blackstone Management Partners, Francisco Partners, Insight Venture Partners, and Riverwood Capital, I regret to inform you that we will likely not pursue this opportunity. I would welcome the opportunity to speak to you to follow up on these matters and answer any questions that you may have.

Sincerely,

BOULDER ACQUISITION CORP.

By: /S/
Name: Chinh Chu

cc: Roger Altman, Evercore Partners
A version of this article appeared in print on 04/19/2013, on page B2 of the NewYork edition with the headline: Blackstone Is Said to Drop Out of the Bidding for Dell.
Article source: http://dealbook.nytimes.com/2013/04/18/blackstone-seen-abandoning-bid-for-dell/?partner=rss&emc=rss