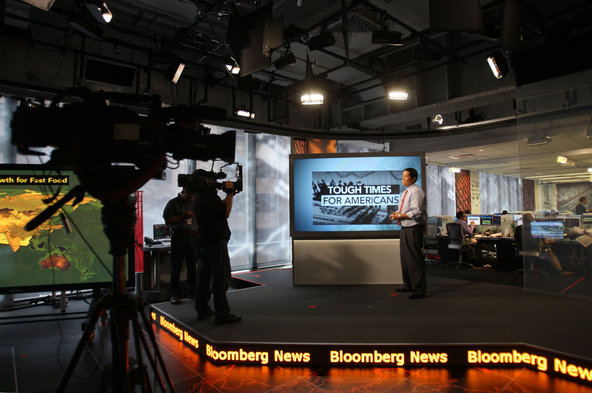 Hiroko Masuike for The New York TimesBloomberg's TV studio in Manhattan. The news and financial data company has recently begun expanding into new businesses like stock and bond trading.
Goldman Sachs and JPMorgan Chase are usually bitter rivals, competing for lucrative banking and trading business. But one day in April, the Wall Street titans found common ground: frustration with the Bloomberg news and financial data empire.
Goldman's public relations chief, Jake Siewert, a former Treasury official, called his counterpart at JPMorgan Chase, Joe Evangelisti, with a simple question: "Do you have any issues with Bloomberg?"
Before he could finish his sentence, Mr. Evangelisti began rattling off his grievances, say people briefed on the call. At the top of the list was a Bloomberg News article in 2011 that likened the strife in an Italian town after a bad deal with JPMorgan to the fallout from the Nazis' occupation in World War II. He also mentioned another episode when a Bloomberg reporter surreptitiously obtained an access code to listen to a private conference call for senior executives.
The two men shared one major concern: they believed that Bloomberg reporters were using the company's data terminals to monitor Wall Street sources — the executives at the banks that were spending thousands of dollars a year to use the data-rich machines.
That phone call lifted the lid on a long-simmering, but seldom discussed, tension between Bloomberg and Wall Street. This article is based on interviews with many of the people with whom Mr. Siewert spoke.
There had long been suspicions among public relations executives that Bloomberg reporters might be using terminals to check up on bank executives. But one Wall Street chief executive, who spoke on the condition that he not be named, said recently, "I hate it when something happens that hadn't occurred to me, and this situation certainly hadn't."
The grumbling and gossiping never amounted to much until Mr. Siewert, who joined Goldman last year, began his mission.
Through its lucrative terminal business, Bloomberg provides firms with intricate financial information. And while the company is not alone in providing data to the big banks — Reuters and others offer similar services — Bloomberg terminals have become so ubiquitous on Wall Street that they are essentially a prerequisite for traders. They come at a steep price: each machine can cost an average of more than $20,000 a year.
Adding to the tension between Wall Street and the data provider, many bank executives have grown to resent the fact that Bloomberg will not reduce the cost of the terminals, as other vendors have. After reports of Bloomberg's monitoring emerged, some Wall Street executives sought concessions on the cost of the terminals, but those efforts failed, according to people briefed on the matter.
At the same time, Bloomberg is also expanding into businesses like stock and bond trading, a lucrative sector that is still largely dominated by banks like Goldman. The company has put more resources into offering fresh methods of trading stocks, bonds and some more complex financial instruments.
As a result, some at Bloomberg have privately accused Goldman Sachs of creating a firestorm over the terminal surveillance. Goldman executives bristle at that assertion.
Still, the business initiatives at Bloomberg, which has reporters around the globe, exacerbates the tensions that any news organization has with the people it covers.
"Bloomberg has to walk a fine line between selling a service to firms like Goldman Sachs on the one hand and hammering them on the other with stories," said Paul A. Argenti, a professor of corporate communications at Dartmouth's Tuck School of Business.
Bloomberg reporters had a limited window into what terminal users were doing, according to people close to Bloomberg. For instance, they knew when a subscriber was logged in or out, and could see help-desk chats, which might give clues about what a subscriber was interested in.
Mr. Siewert said in a statement that Bloomberg representatives had told Goldman that they would get to the bottom of the issue.
"We've got a lot of respect for Bloomberg reporters, and the company is making sure that the news desk has no special access to client information, so they're on top of it," he said.
A spokeswoman from JPMorgan declined to comment.
Ty Trippet, a spokesman for Bloomberg, said, "We always want to hear from our clients and others about our editorial coverage, and we take substantive concerns very seriously."
Goldman's response began when a press officer in Hong Kong received a call from a Bloomberg reporter about the whereabouts of a partner who the reporter noted had not logged into his terminal in a few weeks.
The Goldman employee felt the call crossed the line, and she immediately mentioned it to her boss in Hong Kong, who in turn raised it with Mr. Siewert in New York.
His first move was to find out whether Bloomberg had guidelines prohibiting reporters from using terminals to further their reporting. Mr. Siewert is probably best known for his years working for President Clinton, including as his press secretary.
Mr. Siewert called a reporter at Bloomberg who covers Goldman. He was directed to an editor, who assured him that Bloomberg had a policy aimed at preventing exactly the sort of behavior Mr. Siewert was concerned about.
This response surprised executives at Goldman because the reporter who called the Hong Kong office had admitted monitoring an executive's whereabouts through the terminal.
Mr. Siewert then called more than half a dozen former Bloomberg reporters, most of whom now work at The Wall Street Journal. Most of those acknowledged using the terminal to further their reporting, or said they knew people who had done so.
At the same time, Mr. Siewert contacted a number of public relations executives on Wall Street and in Washington. Several executives told Mr. Siewert that they too had previous episodes of Bloomberg reporters' checking the whereabouts of employees, but had not been concerned enough to take the issue up with Bloomberg.
Goldman held a series of meetings on Bloomberg's monitoring. Goldman's legal department pulled out the bank's contract with Bloomberg, which prohibits Bloomberg from using confidential information it might glean from its relationship with Goldman for purposes not contemplated by the contract.
Mr. Siewert's work culminated in a meeting on April 29 at Goldman's headquarters in Lower Manhattan. In a conference room on the 43rd floor overlooking the Hudson River, Daniel L. Doctoroff, the chief executive of Bloomberg, met with Gary D. Cohn, the president of Goldman Sachs.
"This data is sensitive," Mr. Cohn told Mr. Doctoroff, according to others present at the meeting. Mr. Doctoroff assured Goldman officials that Bloomberg was concerned about the breach and had cut off the ability of reporters to access client information, according to attendees of the meeting.
"They were very responsive and didn't pretend it was an isolated incident," said one executive at the meeting.
Mr. Cohn told Mr. Doctoroff that Goldman was considering notifying its clients of the breach, but before it did it wanted to be able to tell them what remedial action Bloomberg was taking. The two men agreed to talk again soon.
Bloomberg executives left the meeting feeling things were moving in a positive direction and were surprised by the subsequent news media attention.
Still, Mr. Siewert's calls had piqued the interest of reporters, and The Wall Street Journal and The New York Post began reporting.
On the afternoon of May 9, Mark DeCambre, a reporter for The Post, called Bloomberg. His article, with the headline "Goldman Sachs employees concerned Bloomberg news reporters are using terminals to snoop," broke the news.
Mr. Doctoroff responded in a note to Bloomberg clients.
"A Bloomberg client recently raised a concern that Bloomberg News reporters had access to limited customer relationship management data through their use of the Bloomberg terminal. Although we have long made limited customer relationship data available to our journalists, we realize this was a mistake," he wrote.
A version of this article appeared in print on 06/01/2013, on page B1 of the NewYork edition with the headline: Hunch About Bloomberg Brought Rivals Together.
Article source: http://dealbook.nytimes.com/2013/05/31/hunch-about-bloomberg-brought-rivals-together/?partner=rss&emc=rss