In the 1950s, government spending fell quickly after the Korean War ended. In the second quarter of 1956, the total government gross domestic product was $91.4 billion, at an annual rate. That was 0.4 percent lower than the $91.8 billion rate three years earlier, in the third quarter of 1953.

FLOYD NORRIS
Notions on high and low finance.
It would be almost 60 years before another such decline was recorded.
The G.D.P. report released Friday states the total government part of G.D.P. – federal, state and local – came to $3.0306 trillion in the first quarter of this year. That is 0.01 percent below the $3.0309 trillion recorded four years earlier.
Those are nominal figures, not adjusted for inflation (as are the figures in the chart below). On a real basis, the decline was 6.5 percent.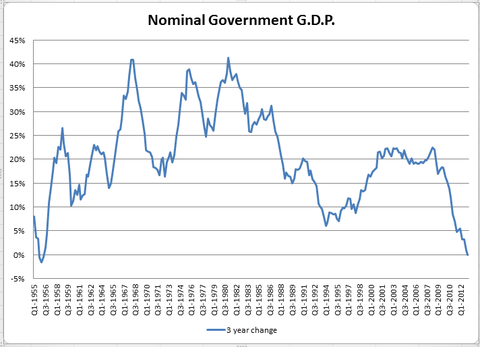 Source: Bureau of Economic Analysis, via Haver Analytics
Those who complain about big government will point out, correctly, that some government spending does not show up that way in the G.D.P. accounts. Transfer payments like Social Security are recorded when the recipient spends the money, and characterized based on what he or she bought. But the figure does include all the salaries paid by governments, and all the things they buy, from schoolbooks to rifles.
Governments as a group had 648,000 fewer employees in March than they had three years earlier. Some of that decline – 87,000 jobs – reflects temporary employment for the 2010 census, but the rest reflects real cutbacks. Most of that decline has been in local government jobs, and most of the fall in local government jobs has come in schools.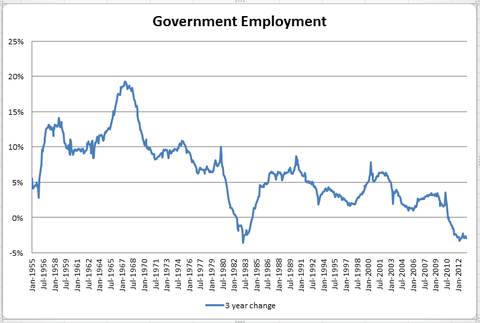 Source: Bureau of Labor Statistics, via Haver Analytics
In the G.D.P. numbers, state and local spending is up a little over the last three years, measured in nominal terms. The decline came from federal spending.
Aides to Ronald Reagan used to talk about "starving the beast." In the Obama years, it is happening.
Article source: http://economix.blogs.nytimes.com/2013/04/26/starving-the-beast-2/?partner=rss&emc=rss