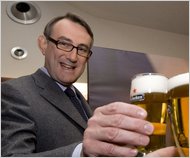 HONG KONG–Heineken on Friday offered to pay more than $4 billion for a stake in Asia Pacific Breweries, one the region's biggest brewers, trumping an offer made by a Thai rival earlier this week and highlighting the industry's intense appetite for assets in fast-growing emerging markets.
The Dutch brewing giant offered $50 Singapore dollars, or $39.84, per share, for a 40 percent stake held by Fraser and Neave, a Singapore-listed conglomerate and longstanding partner of Heineken in the region.
The $5.1 billion Singapore dollar, or $4.1 billion, acquisition would considerably beef up Heineken's existing 42 percent holding in Asia Pacific Breweries.
If successful, the bid would also trigger a requirement that Heineken makes a mandatory buyout offer to remaining shareholders of the Asian brewer. That would add as much as 2.4 billion Singapore dollars to the overall price tag, and underlines how eager Amsterdam-based Heineken is to expand in emerging markets.
Listed in Singapore, A.P.B. operates 30 breweries across Asia, including in far-flung counties such as Mongolia, Papua New Guinea and the Solomon Islands. Its brand portfolio boasts Tiger Beer and Bintang lager, some of the best known beers in the regional markets where they are sold.
''If agreed, the offer will strengthen Heineken's platform for growth in some of the world's most exciting and dynamic economies with fast-growing populations,'' Heineken said in a statement on Friday.
The Dutch company said a successful deal would give it ''direct access to a number of important markets, including Cambodia, China, Indonesia, Malaysia, New Zealand, Papua New Guinea, Singapore, Thailand and Vietnam.''
Heineken's move to buy out A.P.B.'s remaining shareholders appears to have been triggered by an offer earlier this week by a Thai rival that was targeting stakes in A.P.B. and Fraser and Neave.
Thai Beverage, controlled by the Thai billionaire Charoen Sirivadhanabhakdi, offered to buy 22 percent in Fraser and Neave for 2.78 billion Singapore dollars. At the same time a company called Kindest Place, reportedly controlled by a relative of Mr. Sirivadhanabhakdi, bid for stake of about 8 percent in A.P.B. That latter offer, of 45 Singapore dollars a share, is well below the 50 dollars that Heineken has put on the table, and it is unclear whether either of the Thai bidders will come back with a counteroffer.
Slowing growth in mature markets, rising costs and the growing popularity of low-carbohydrate beers and other drinks have put pressure on the world's major brewers to consolidate, and prompted a spate of mergers and acquisitions across the sector over the past few years.
Among the most recent deals, Anheuser-Busch InBev, whose beer brands include Budweiser and Stella Artois, agreed last month to buy the half of the Mexican brewer Grupo Modelo that it does not already own for $20.1 billion.
Anheuser-Busch InBev itself was formed in 2008 when the Belgian-Brazilian brewing company InBev acquired Anheuser-Busch of the United States for around $52 billion.
SABMiller, a rival that was likewise forged via a merger of two brewing giants in 2002, last year agreed to a $10.15 billion takeover of Foster's Group, the biggest beer company in Australia.
Heineken's growth in recent years has also been boosted by a number of acquisitions, including the purchase of Femsa's brewing operations in Mexico and Brazil two years ago for more than $5 billion, a partnership with United Breweries in India, and acquisitions and capacity investments in Africa.
Heineken is being advised by Credit Suisse and Citigroup.
Article source: http://dealbook.nytimes.com/2012/07/20/heineken-offers-4-1-billion-for-asia-pacific-breweries-stake/?partner=rss&emc=rss