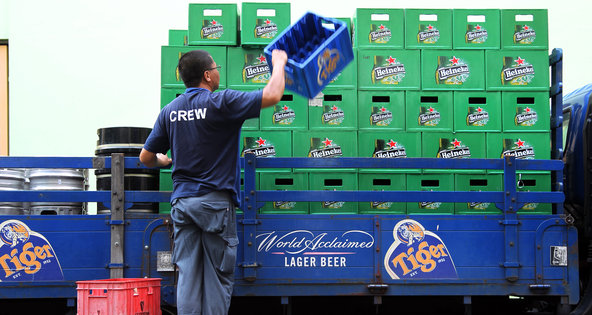 Wong Maye-E/Associated PressHeineken and Thai Beverage are both attempting to buy Fraser Neave's beer unit, whose brands include Tiger Beer.
The Thai billionaire Charoen Sirivadhanabhakdi initiated a $7.3 billion takeover bid on Thursday for the 70 percent stake in the Singaporean conglomerate Fraser Neave that he did not already own.
The all-cash offer, which represents a 4.3 percent premium to Fraser Neave's closing stock price on Wednesday, could scuttle plans by the Dutch brewer Heineken to buy Fraser Neave's beer unit, whose brands include Tiger Beer.
Heineken and Thai Beverage, which is controlled by Mr. Charoen, have been battling for control of Asia Pacific Breweries, the beer business jointly owned Heineken and Fraser Neave. Last month, Heineken moved a step closer to gaining control of Asia Pacific Breweries after it raised its offer to $4.3 billion to buy Fraser Neave's interest in Asia Pacific.
Fraser Neave has recommended the offer to its shareholders, who are to vote on the deal at the end of the month.
By starting a multibillion-dollar takeover bid for Fraser Neave, Mr. Charoen may be able to overturn the deal with Heineken. Mr. Charoen already holds a 30 percent stake in Fraser Neave through Thai Beverage and TCC Assets, an investment vehicle he controls.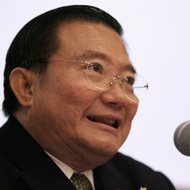 Tim Chong/ReutersCharoen Sirivadhanabhakdi, the chairman of Thai Beverage.
Through TCC Assets, Mr. Charoen offered 8.88 Singapore dollars ($7.22) on Thursday for each share in Fraser Neave, which also operates a large global real estate portfolio. The deal values the company at $10.2 billion. The offer is supported by loans from two Singaporean banks and Morgan Stanley.
"We believe the offer represents an opportunity for F.N. shareholders to realize the value of their investment in cash and to make a complete exit," Mr. Charoen said in a statement.
For months, Mr. Charoen has been positioning himself to decide the future of Asia Pacific Breweries. In August, Thai Beverage, which is owned by Mr. Charoen, increased its stake to 26.2 percent, making it the company's largest shareholder and allowing Mr. Charoen to dictate whether Fraser Neave shareholders would support Heineken's takeover. Thai Beverage has subsequently increased its holding to 29 percent.
Kindest Place, a separate company controlled by the son-in-law of Mr. Charoen, also bought an 8.6 percent stake in Asia Pacific. The Japanese brewer Kirin is the second-largest shareholder in Fraser Neave, with a 15 percent stake. Heineken said it would review the $7.3 billion offer for Fraser Neave. A spokesman declined to comment on whether the Dutch brewer would increase its offer.
Shares in Fraser Neave closed up 4.8 percent in trading in Singapore, while stock in Heineken fell less than 1 percent in Amsterdam.
The battle for Asia Pacific Breweries comes as many of the world's beer companies are turning to emerging markets in search of growth. With fast-expanding middle classes and economic growth running counter to the global slowdown, developing countries offer new sources of revenue compared with Western countries, which continue to struggle from the European debt crisis and volatility in the financial markets.
This year, Anheuser-Busch InBev, whose brands include Budweiser and Stella Artois, agreed to pay $20.1 billion for the half of the Mexican brewer Grupo Modelo that it did not already own.
And SABMiller bought the Foster's Group, the biggest beer company in Australia, for $10.2 billion last year. With the acquisition, SABMiller gained exposure to a developed market that offered high profit margins but lacked the growth seen in emerging markets.
Article source: http://dealbook.nytimes.com/2012/09/13/thai-billionaire-in-7-3-billion-bid-for-fraser-neave/?partner=rss&emc=rss