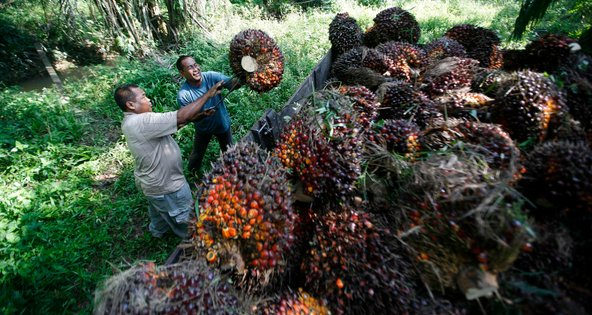 Samsul Said/ReutersFarmers harvesting oil palm fruit. Felda Global Ventures of Malaysia is a major producer of palm oil.
HONG KONG — Shares in Felda Global Ventures rose as much as 20 percent in their trading debut in Kuala Lumpur, Malaysia, on Thursday following the palm oil producer's successful $3.1 billion initial public offering earlier this month.
Shares in Felda, which was privatized by the Malaysian government in the world's second biggest I.P.O. of the year behind that of Facebook, rose as high as 5.46 Malaysian ringgit, or $1.71, apiece in morning trading.
The opening day pop briefly increased Felda's market value by an additional $1 billion, before the shares gave up some of their gains to settle at 5.30 ringgit apiece at the close of trading on Thursday, 16 percent above the I.P.O. offering price of 4.55 ringgit.
Felda's is a rare success story in Asian markets, which continue to struggle with weak trading volumes and lackluster demand for new offerings because of investor worries about Europe's debt crisis and a lingering economic slowdown in China.
Recent weeks have seen a series of large I.P.O.'s in Asia and elsewhere withdrawn or postponed because of slumping markets. Those included a planned $3 billion offering by the Formula One racing outfit in Singapore and a $1 billion Hong Kong share sale by Britain's Graff Diamonds.
Still, several smaller deals have managed to get through. Earlier this week, China Nonferrous Mining successfully priced its $247 million Hong Kong share sale, while in Indonesia, the media company PT MNC Sky Vision priced its $226 million deal, according to the term sheets for both offerings.
Felda, which draws about 80 percent of its revenue from sales of crude palm oil within Malaysia, sold 1.92 billion shares to institutional investors at the offer price and 273 million shares to retail investors at a 2 percent discount, according to its prospectus.
Of the total I.P.O. proceeds of 9.93 billion ringgit, about 55 percent went to the government, which sold a 33 percent stake, and about 45 percent went to the company, mainly for the purchase of new plantations. Felda already has about 880,000 acres of palm plantations in Malaysia, according to its Web site.
CIMB, Maybank and Morgan Stanley were the joint bookrunners for the I.P.O., while the three banks, in addition to Deutsche Bank and JPMorgan Chase, underwrote the retail offering.
Article source: http://dealbook.nytimes.com/2012/06/28/felda-shares-pop-20-after-3-1-billion-i-p-o/?partner=rss&emc=rss