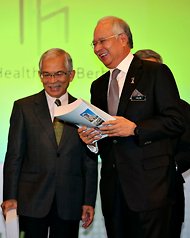 Bazuki Muhammad/ReutersIHH Healthcare's chairman, Abu Bakar Suleiman, left, with Prime Minister Najib Razak of Malaysia, holding the prospectus for the company.
HONG KONG — IHH Healthcare, one of Asia's biggest hospital operators, raised $2 billion selling shares in Malaysia and Singapore on Thursday in the world's third-largest initial public offering this year. The shares priced at the top of the range after having been marketed at 2.67 ringgit to 2.85 ringgit apiece.
While global investors have shown scant appetite for huge new listings since Facebook's botched $16 billion I.P.O. on the Nasdaq stock market in May, Malaysia has emerged as a relative bright spot.
The Southeast Asian nation was also home to the world's second-biggest offering of the year, the $3.1 billion listing of the palm oil producer Felda Global Ventures on the Kuala Lumpur exchange in June.
IHH, owned by the Malaysian state investment firm Kazanah Nasional and the Japanese trading house Mitsui Company, sold 2.23 billion shares, or a 27 percent stake in the company, pricing the dual offering at 2.80 Malaysian ringgit and 1.11 Singapore dollars a share, or 87 American cents a share, according to stock exchange filings.
IHH employs 24,000 people worldwide at 30 hospitals with more than 4,900 beds, and claims a leading market position in Singapore, Malaysia, Turkey, China, Hong Kong and India.
As a part of the offering, the Dubai-based private equity group Abraaj cashed out its entire 7 percent stake, worth $381 million and consisting of 434.65 million existing shares. The rest of the I.P.O. shares, most of which were sold in Malaysia, were new shares.
Similar to last month's Felda deal, the IHH share sale was heavily reliant on so-called cornerstone investors to help ensure its success. Cornerstones are large strategic or financial investors who are allotted a large chunk of shares in exchange for agreeing to hold them for a specified lockup period during which the shares cannot be sold.
IHH sold 1.39 billion shares to more than 20 cornerstone investors, accounting for an uncommonly high 62 percent of the total offering. Investors including the AIA Group, Blackrock Investment Management, the Government of Singapore Investment Corporation and the Kuwait Investment Authority all agreed to a six-month lockup on their shares.
Bank of America Merrill Lynch, C.I.M.B. and Deutsche Bank were the joint coordinators of the deal, while Credit Suisse, DBS Bank and Goldman Sachs were the joint bookrunners.
Article source: http://dealbook.nytimes.com/2012/07/12/malaysian-hospital-firm-ihh-healthcare-raises-2-billion-in-i-p-o/?partner=rss&emc=rss