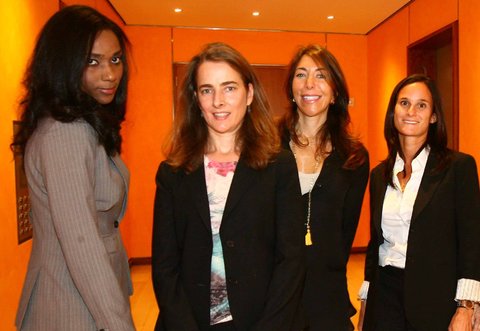 Earl Wilson/The New York Times From the left: Jessica Johnson, Deirde Lord, Beth Shaw, and Susan Parker.
Portraits of women entrepreneurs.
At the most recent meeting of the She Owns It business group, the owners talked about the pros and cons of allowing workers to do their jobs from home.
"I'm a huge advocate of having everyone together for the sharing of ideas and communication, but I think that, as a business owner, you need to be flexible," said Beth Shaw, who owns YogaFit. She said she had had both successful — and unsuccessful — remote-work arrangements. Her chief financial officer worked remotely from 2002 to 2009. "It started to really not work at all to not have your main accounting person in the building," Ms. Shaw said.
But YogaFit has found several positions can be handled effectively from outside the office. For example, the company's hosting manager, who books YogaFit's trainings, works from home four days a week. Additionally, the company's conference manager and the person who manages YogaFit's trainers work remotely.
Jessica Johnson, who owns Johnson Security Bureau, wanted to know whether Ms. Shaw required her remote workers to provide her with any sort of reporting or documentation.
"I mostly leave them to their own devices," Ms. Shaw said, although she does require the hosting manager to report how many trainings the company has each month, how many people attend each training and how many sessions are canceled. She said these numbers provided "a really good barometer of whether she's booking correctly."
Susan Parker, who owns dress manufacturer Bari Jay, said the employees' roles dictated where they could work. For example, her customer service staff must be in the office between 9 a.m and 5:30 p.m. because that's when the phones ring. But Bari Jay's designer has more flexibility. "If she says she needs to work from home, great, go do it," said Ms. Parker, who added that she knew the designer would get her job done.
Additionally, Ms. Parker's sales manager works remotely — and effectively — from Florida. "He's calling me all day nonstop, so I know he's working," Ms. Parker said. "For someone to work from home, you have to trust that they're going to do what they need to do."
"I totally agree," said Deirdre Lord, who owns the Megawatt Hour, an energy-related start-up. "I think it depends on the individual, your relationship with that individual, or the manager's relationship with that individual. It's very hard I think to set rules, but the issue is some people, if they see you making certain things work for some people, then they say, 'What about me — why can't I work from home?'"
That is a big concern, said Alexandra Mayzler, who owns Thinking Caps Group, which recently changed its name from Thinking Caps Tutoring — and got a new Web site. "I think there's something to be said for set vacation days that you have to take and 'set-ish' hours to work because I think when you're working from home, you start feeling like you're working all the time," she said.
"I've worked from home and had that experience," said Ms. Shaw. In fact, she added, "I have that experience now."
Ms. Mayzler said she struggled with setting different rules for different employees. She is currently dealing with this issue in her New York office, where she has found it can create friction when one employee has more flexibility than another. While employees may logically understand that different roles have different demands, "it's hard to care when everybody went home and you didn't," she said.
She says she thinks the problem can be especially pronounced in a small business. "If you have 1,000 people, and people are coming in and out, that's one thing," she said. "But when you have three people, and you only have one person who's constantly there from 9 to 5, it doesn't feel good."
Ms. Lord said that as her company, which has five employees, shifted from product development to sales and marketing mode, she and her colleagues were primarily working remotely. "I don't worry about this group getting their work done, which is really nice," she said.
Plus, Ms. Shaw pointed out, hours logged in the office are no guarantee of productivity.
Ms. Lord said her co-founder, with whom she has worked on and off since 1998, is "the definition of an effective remote worker." He can always be reached, gets his work done, and is proactive when it comes to initiatives. "I think those people are quite unusual, to be honest," she said.
"What I'm learning is, most people need structure," Ms. Mayzler said — even if they think they don't.
Ms. Johnson, who used to work in pharmaceutical sales, said the use of reporting and metrics could help provide structure. As a sales representative, she covered a large multistate territory, and her employers required daily or weekly reports from her. "They basically had a measure of security that the people in the field were doing what they were supposed to do and a level of accountability," she said. Additionally, she and her manager reviewed metrics such as number of daily or weekly sales calls made. "You know how they say, 'If it's not measured, it won't get done,'" she said.
"Right," Ms. Lord said.
Ms. Johnson says she thinks it critical for companies that employ remote workers to determine the metrics relevant to their jobs and at least start them on some type of reporting system. While she said she disliked generalizations, she thought it was particularly important to impose structure on younger workers. "They're so used to being independent but really don't understand the responsibility that comes with being independent," she said.
"I actually could not agree more," said Ms. Lord, who recalled getting her very first job and thinking she couldn't leave her desk for a second — not even to go to the post office. "I don't think the world is ever going to operate that way again," she said. "There's a generation of people who are like, 'I want to go kayaking. Can I kayak today, instead?'"
To harness the talent and creativity of this generation requires a hard-to-balance combination of imposed discipline and the creation of something they want to be a part of, Ms. Lord said. "I think actually that's really what Marissa Mayer is trying to do," she added, referring to the chief executive of Yahoo, which recently said it would require employees to work in-house. "It sounds like no one at Yahoo ever wanted to darken the doors of that place." Which is why, she continued, Ms. Mayer "took the draconian route, and I don't think I blame her for that."
"Really shaking it up," Ms. Mayzler said.
"She had to shake it up," Ms. Lord said. "And then maybe she'll create a culture that everyone's really excited about — then she can give that flexibility back."
You can follow Adriana Gardella on Twitter.
Article source: http://boss.blogs.nytimes.com/2013/03/19/the-truth-about-working-from-home/?partner=rss&emc=rss