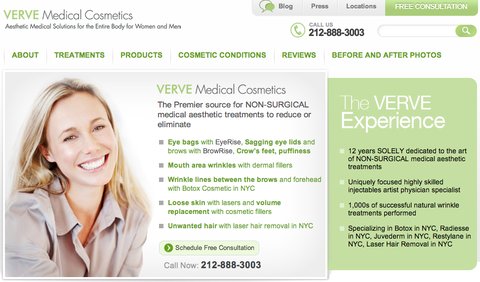 What small-business owners think.
Last year, Dr. Stephen Bracci, owner of Verve Medical Cosmetics, realized that his Web site was doing a better job attracting visitors than it was converting those visitors into customers. As Katherine Reynolds Lewis explains in a small-business guide we've just published, there are a lot of things a business can do to improve its conversion rates.
Last year, Dr. Bracci and his wife Michele, the company's director of marketing, redesigned the site to emphasize the qualities they believe make the business stand out from other nonsurgical medical aesthetics companies. They added before-and-after photos, emphasized Dr. Bracci's qualifications and 12 years of experience, put their clinics' physical addresses on the home page and made the offer of a free consultation more visible. They also moved the company's phone number to the upper right corner of the home page, with a prominent encouragement: "Call Us."
After the redesign, Verve had a 20 percent increase in the number of qualified phone leads from the site and an 18 percent decline in the average bounce rate — the percentage of visitors who left the site after visiting just one page.
What have you tried to increase conversion rates on your site? What has worked? What hasn't?
Article source: http://boss.blogs.nytimes.com/2012/09/12/do-you-track-your-sites-conversion-rates/?partner=rss&emc=rss