A dispute at the highest levels of the principal lobbying group for Europe's automotive industry was resolved with a handshake on Friday, as Sergio Marchionne, the chief executive of Fiat and Chrysler, met with Martin Winterkorn, chief executive of Volkswagen, on the convention floor at the Paris motor show.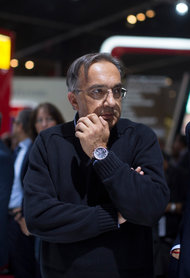 Corentin Fohlen for The International Herald Tribune Sergio Marchionne, on Thursday in Paris.
Mr. Marchionne, the head of the European Automobile Manufacturers' Association, was criticized by Volkswagen executives for comments made to The New York Times in July, in which the Fiat chief took issue with deep discounts offered by the German brand in Europe. Mr. Marchionne and other executives accused VW of creating a market climate in which frenzied price-cutting jeopardized margins. The Fiat chief characterized the environment as a "bloodbath."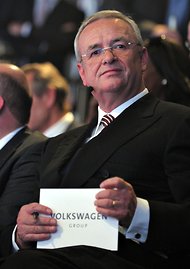 Eric Piermont/Agence France-Presse — Getty Images Martin Winterkorn, on Wednesday at the preview event for the VW Group.
Fiat, PSA Peugeot Citroën, Ford Motor and the Opel and Vauxhall divisions of General Motors project significant losses in Europe for the year as they try to address overcapacity at their plants.
In July, Volkswagen said it was prepared to leave the lobbying group, saying Mr. Marchionne was not qualified to lead it. As Automotive News reported on Thursday, Mr. Marchionne issued a challenge to VW that sounded as if it was lifted from Hopalong Cassidy:
"If Volkswagen, through its chief executive, thinks that it needs to do something, tell them to show up tomorrow morning at 7 o'clock at our stand," Mr. Marchionne told reporters.
Automotive News and Bloomberg reported that on Friday morning in Paris, having adjourned from a meeting of the lobbying group held at the Fiat stand, the two executives met and shook hands, saying the dispute was resolved.
"We've cleared it," Mr. Marchionne said of the spat in a video interview after he and Mr. Winterkorn acknowledged they remained "good friends."
Article source: http://wheels.blogs.nytimes.com/2012/09/28/for-marchionne-and-winterkorn-a-parisian-showdown-is-averted/?partner=rss&emc=rss