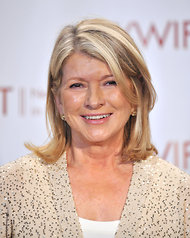 Fernando Leon/Getty Images Martha Stewart
Like many New York companies, Martha Stewart Living Omnimedia had a difficult week. The basement of the company's offices in west Chelsea were flooded by Hurricane Sandy, sending staff members home for the week and forcing the company to twice reschedule its quarterly earnings report, now set for Friday.
On Thursday, there was more bad news when the company announced it was scaling back two of its four magazines and laying off about 70 employees, or 12 percent of the nearly 600-person company.
Everyday Food, the company's middle-market cooking digest, will be cut from 10 issues a year to five and will no longer be sold as a stand-alone publication. Instead, it will be delivered as a supplement to subscribers of Martha Stewart Living.
Whole Living Magazine, which the company purchased in 2004, is on the market. The magazine, with a circulation of 760,606, has suffered a 24 percent decline in advertising pages in the last year. While company executives say they are already in discussions to sell the magazine, they plan to stop printing it by year-end and fold its content into Martha Stewart Living if a sale is not concluded.
"It's a significant event in the history of the company," said David Bank, an analyst with RBC Capital Markets, about the publishing cuts. Unlike bigger publishing companies with dozens of magazines, Martha Stewart is now heavily dependent on only two titles, Martha Stewart Living and Martha Stewart Weddings.
"There's really one flagship title carrying the operations. The magazine industry no doubt is headed for structural transformation," Mr. Bank said. "But the bigger you are, the longer you can put it off for. These guys, they're just subscale."
The announcement follows a steady stream of bad news from the company, including declining income in all three of its divisions: publishing, merchandising and broadcasting. Last year, the company hired Blackstone Advisory Partners to explore what was considered a sale of the company and ultimately formed a merchandising deal with J. C. Penney. Earlier this year, the company cut $12.5 million in broadcasting costs by not renewing its daily programming deal with the Hallmark Channel, breaking its lease on its television production studio and ending its live audience for "The Martha Stewart Show." In April, it was announced that a new weekly show, "Martha Stewart's Cooking School," would be distributed on public television.
The cuts announced Thursday go to the heart of Martha Stewart's publishing business, the foundation of her company, which still provides 64 percent of total revenue, according to the latest public filings.
Lisa Gersh, the company's president and chief executive, said, "We're taking it really from four separate magazines down to two." She added that the decision was driven by declines in magazine advertising and newsstand sales and the potential for greater profits in video. The company's magazine titles have also attracted more digital subscribers than their competitors.
"In light of the clear trends we are seeing across the media industry, and following a careful evaluation of our own publishing segment, we are taking decisive action to drive the company's return to sustainable profitability," Ms. Gersh said.
The announcement will not change the relationship of Ms. Stewart herself with the company that bears her name. Last year, Ms. Stewart, who was convicted in 2004 and sent to prison for lying to federal investigators about a stock sale, was allowed to resume an official role in the company. In July, the company agreed to extend her current contract to June 2017.
The company's publishing fortunes now rest heavily on magazines with very mixed results. Martha Stewart Living's advertising pages declined by 30 percent in the first half of the year, according to data tracked by the Publishers Information Bureau. While its overall circulation has grown slightly, its newsstand sales dropped in the last year to 163,571 copies in June from 198,700 copies the same time the year before, according to the Audit Bureau of Circulations.
Martha Stewart Weddings has had more success with its advertising pages, which in the last year grew by 49 percent. Ms. Gersh said the magazine's December issue was expected to be the biggest issue in terms of advertising revenue. But even brides have been buying fewer copies of Martha Stewart Weddings. Its newsstand sales declined to 155,406 copies in the first half of the year from 200,159 copies the same time the year before.
Even with these problems, analysts seemed pleased that Martha Stewart's executives had finally made a move to cut its publishing costs. Michael Kupinski, director of research for Noble Financial Capital Markets, noted that so far this year the company's publishing division generated a $12 million loss, while its merchandising division brought in $38 million in net income for the company. Last year, merchandising generated $30 million in net income, while publishing generated a loss of $6.5 million.
"All of the cash flow at the company is driven by merchandising," Mr. Kupinski said. "It's been a really tough environment for magazines."
In a statement, company executives estimated that the latest publishing cuts would save $33 million to $35 million a year on staff, circulation and distribution.
These recent cuts may also put Martha Stewart in better shape for a sale. Mr. Kupinski noted that last year the company hired Ms. Gersh, who was involved in founding and making Oxygen Media profitable and then selling it to NBC Universal. It also brought on Kenneth West, former chief financial officer of Marvel Entertainment, who was involved with selling that company.
"There was a point it was for sale. But Martha wasn't getting the price that she wanted," Mr. Kupinski said. "If this management team comes in and at breakneck speed, they're cleaning up this business, I wouldn't be surprised at one point that it's on the block."
A version of this article appeared in print on 11/02/2012, on page B1 of the NewYork edition with the headline: Martha Stewart Living Will Scale Back Magazines and Reduce Its Staff.
Article source: http://mediadecoder.blogs.nytimes.com/2012/11/01/martha-stewart-living-to-lay-off-staff-and-reduce-magazines/?partner=rss&emc=rss