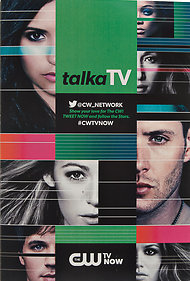 The CW's electronic insert in Entertainment Weekly.
Lots of people are accustomed to watching television while simultaneously posting updates to Twitter or Facebook or looking up information online, or what is known in media circles as "the second screen experience." But why watch two screens when you can start with one?
To showcase its new fall season, the CW network will use Twitter as a platform to preview the season premiere of the show "Emily Owens, M.D." To promote the show, CW will include an insert in the Oct. 5 issue of Entertainment Weekly that will feature what is essentially a small cellphone screen that will wirelessly display a short video showing stars of new CW shows and then a live Twitter feed of the network's account, @CW_Network.
Rick Haskins, CW's executive vice president for marketing and digital projects, said the screen would feature the six most recent posts to the network's Twitter handle. An in-house social media team managing the feed will delete only messages that include profanity or other unacceptable language, he said. And if someone posts saying they don't like the show or the network?
"To me that's what starts the dialogue," Mr. Haskins said. "We will not editorialize that out. We no longer own our brand. The consumer owns the brand and the more people that embrace that and entertain it, the stronger the brand is going to be with their audience."
Joel Lunenfeld, Twitter's vice president for brand strategy, said more television networks were considering using the platform to introduce content before it runs on television. On Friday, Fox used Twitter to preview the season premiere of "Raising Hope." Seeing something on Twitter, Mr. Lunenfeld said, actually helps the chances of people flipping on the television to watch.
"I think we saw a lot of that activity during the Olympics this year," he said. "People are seeing things unfold on Twitter, engaging with it and then tuning in to watch it happening."
Alan Cohen, the chief executive of OMD, the media planning and buying agency that is a unit of the Omnicom Media Group, part of the Omnicom Group, and the agency that worked on producing the insert, said marketing new television shows was increasingly difficult because of the amount of content available to viewers. Mr. Cohen said the agency was focused on "reinventing print" by combining multimedia elements like the Twitter feed.
"Now people need a little push to know what to watch because there's so much television," he said. "We believe that print is one of the vehicles where you want to get people to notice."
Article source: http://mediadecoder.blogs.nytimes.com/2012/09/23/using-twitter-to-promote-the-fall-tv-season/?partner=rss&emc=rss