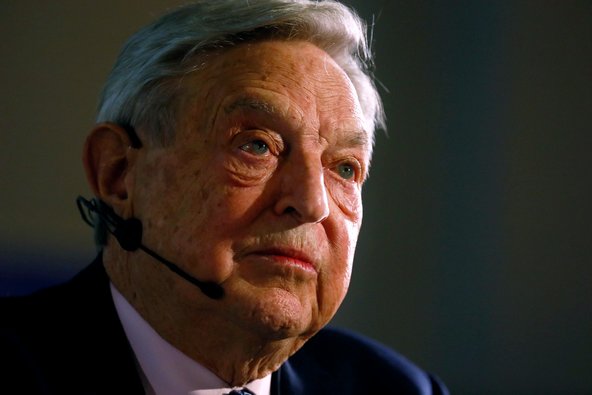 Ralph Orlowski/ReutersGeorge Soros, the billionaire hedge fund investor.
J. C. Penney doesn't have many fans on Wall Street. But a big one emerged on Thursday: George Soros.
Mr. Soros, the hedge fund billionaire, on Thursday disclosed a 7.9 percent stake in Penney, with 17.4 million shares, according to a securities filing. The stake is passive, meaning Mr. Soros will not try to exert influence on the embattled retailer.
Related Links
Penney's shares rose nearly 7 percent in after-hours trading. The stock, which has taken a beating this year, ended regular trading up 5 cents at $15.24, before the stake was disclosed.
Mr. Soros, 82, is at least the second prominent hedge fund manager to take a shine to Penney, whose chief executive, Ron Johnson, was pushed out two weeks ago after 17 months on the job.
William A. Ackman, the head of Pershing Square Capital Management, also has a sizable stake. Penney's shares fell more than 50 percent during the tenure of Mr. Johnson, a former Apple executive Mr. Ackman supported.
Mr. Johnson brought fresh ideas to Penney, trying to attract a new type of shopper. But those failed to improve the company's sales. In February, Mr. Johnson admitted he made "big mistakes" in his turnaround effort after the company reported a $552 million quarterly loss.
Penney's stock price has climbed since Mr. Johnson was replaced by the executive who had preceded him, Myron E. Ullman III, an appointment that was seen as a stopgap as the company tried to get back on its feet.
Mr. Ackman, whose firm owns a 17.8 percent stake in Penney, continues to express confidence in the company, though he seemed to lose faith in Mr. Johnson in the days before the management change was announced.
"I don't see a scenario in which we don't work this thing out," Mr. Ackman said at a luncheon this month, according to a report at the time.
The move by Mr. Soros, a legend on Wall Street who stopped managing outside money several years ago, will most likely cause some investors to give Penney a second look.
It was not immediately clear what had prompted Mr. Soros's interest in the retailer. But if Mr. Ullman wanted to visit two of his largest shareholders, he won't have far to travel. Mr. Soros and Mr. Ackman share an office building in New York.
Article source: http://dealbook.nytimes.com/2013/04/25/soros-takes-big-stake-in-j-c-penney/?partner=rss&emc=rss