Tim Cook is back on stage summarizing the announcements of the event: new Macs, Mountain Lion, iOS 6. "Only Apple could make such amazing hardware, software and services," he says. "We are so proud of these products, as they're perfect examples of what Apple does best. Ultimately it's why people choose to come work at Apple and work with Apple." Mr. Cook is more confident as a speaker now than he was at the iPhone 4S event.
He wishes everybody a fantastic week. And that's a wrap. Thanks for reading.
On to the new Maps app. It looks clearer and more saturated. These are obviously not Google's maps. There is local search for more than 100 million business listings, Mr. Forstall says, so you can search for nearby things within the Maps app. There's a traffic view to see where traffic is — dotted red lines. There's anonymous crowd-sourced real-time tracking of iOS users to generate the traffic data. And built-in turn-by-turn navigation.
Tap a button and you'll see the map in a 3-D view. (Android has had this for ages.) There's also Siri integration, so you can ask Siri to show you the way. And there's a feature called FlyOver. Apple has been building a 3-D photographic model of some places using planes.
Mr. Forstall is giving a demonstration of the maps. They're vector-based, and you can rotate the map. It looks a lot faster than the Google maps. There is very smooth motion as you tap around. You can zoom in and show the buildings in 3-D. Now he's showing FlyOver. It shows a 3-D view of the Transamerica pyramid in San Francisco. It just looks like a tiny 3-D model of an entire city. It reminds me of Google Earth.
A demonstration of turn-by-turn directions. Choosing Coit Tower and tapping on the QuickRoute option gives you some choices. Siri tells you where to turn.
What's funny is the Siri voice sounds exactly like the TomTom GPS app's default voice, so this doesn't look new at all.
I wonder how much battery the iPhone wastes to show the maps in 3-D.
In wrapping up iOS 6, Mr. Forstall is highlighting the features for China again. There is a lot of emphasis on China in this event. It shows how important that market is to Apple now.
A beta version of iOS 6 will be available to developers today. It will ship this fall and will support the iPhone 3GS and later, along with the second and third iPad. Not the first iPad! Isn't the first iPad just as fast as the 3GS?
Nick Bilton adds: The new maps feature is stunning. In a very Apple-integrated way, you can tell that it has been designed to work directly with Siri, and the user interface has been created specifically for multitouch, allowing you to sweep and zoom through different views on the iPad and iPhone.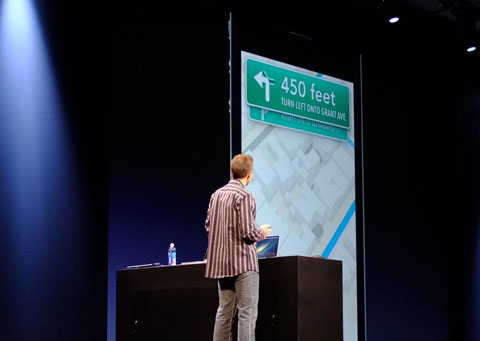 Nick Bilton/The New York Times
Mr. Forstall is talking about apps specifically for children with autism. There are some guided access features so the child can't accidentally tap certain areas. There's a single-app mode so teachers can lock an iPad into a test so students can't go look up the answers in Safari. (This could also be good for parents who don't want their children buying stupid games with their credit cards.)
Passbook, a new iOS app, is a way to get all of your passes, like boarding passes and movie tickets, in one place. Apple has created templates for developers to create passes. If you set a reminder about a ticket, you can swipe from the lock screen and it opens the ticket automatically.
Mr. Forstall is showing a Starbucks card, a Target gift card, an Apple Store ticket, an Amtrak boarding pass and a United Airways ticket. Each of these has a QR code with your ticket info. If you go near your local Starbucks, the Passbook will show a notification and you can slide to unlock and display the code. Is Apple trying to take on Square?
Moving on to enhancements to the Phone app. (Phone? What's that?) In iOS 6, there are more options when you get a call: you can reply with a message or set a reminder to call back later. If you hit the "remind me later" button, you can have the phone remind you to call someone back when you leave work, for example. The phone will note when you leave the office using its location function and give you an alert.
There's a switch called "Do Not Disturb." You can toggle it on so you don't hear some alerts. You can also choose not to get phone calls or to allow calls from only certain people.
Next is FaceTime, which now works over cellular networks and not just Wi-Fi. If someone tries to call you on your phone number using FaceTime, you can answer it on iPad or Mac.
Next is Safari. About two-thirds of all mobile Web traffic comes from Safari or iOS, says Mr. Forstall. They're adding a reading list. You can download and cache a story to read later. You can upload your photos right to a Web site. There are also smart app banners. You can put up a banner on your mobile Web site notifying people about the native app in the App Store.
Next up is Photo Stream, Apple's cloud storage for photos. Now it's adding shared Photo Streams with friends. Choose the photos you would like to share, then choose the friends with whom you would like to share them. Friends will get a push notification, and they can comment on the photos.
Some enhancements to Mail. If someone sends you an e-mail, you get a notification in the lock screen, just like a text message. There's a V.I.P. mailbox for messages from your favorite people, and a new inbox for flagged messages as well. You can open password-protected documents inside e-mails.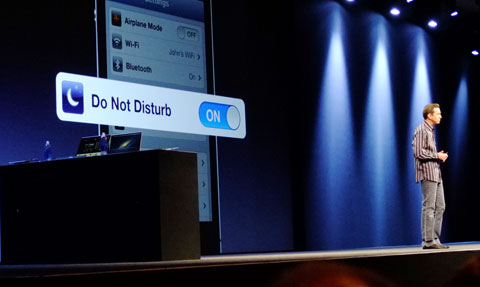 Nick Bilton/The New York Times
Next is Facebook integration. Apple has been working with Facebook to weave its service  into iOS 6. You don't have to log into Facebook multiple times to use your account in different apps. You can post about things like your favorite apps or iTunes songs on Facebook. (R.I.P., Ping.) And Facebook has been integrated with Siri — you talk to post on Facebook. There is a public A.P.I. so third-party apps can work with Facebook, too.
Your Facebook events will now appear in the Calendar app. (It's about time.)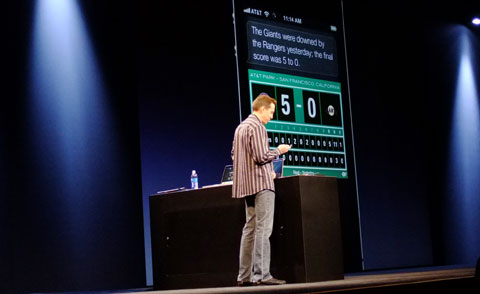 Nick Bilton/The New York Times
Mr. Forstall is announcing iOS 6, the latest version of the operating system for iPhones, iPads and iPod Touches. It has more than 200 new features, he says, starting with significant enhancements to Siri.
Siri has learned about sports. You can ask questions like, "What was the score of the last Giants game?" Siri says: "The Giants were downed by the Rangers yesterday. The final score was 5 to 0."
You can ask, "What is Buster Posey's batting average?" You can ask, "What are the National League standings?" And Siri knows about basketball. You can ask, "Who is taller, LeBron or Kobe?" "LeBron James appears to be slightly taller."
You can ask, "When is the 49ers' first game of the season?" Siri shows an entire schedule.
You can say, "Find a great place to eat for dinner." There's more info about restaurants now: price, type of restaurant, maps inside the restaurant listings. Apple has teamed up with OpenTable for reservations. Siri takes you to the OpenTable app to make one.
Siri is also a movie buff. You can ask, "What movies are playing at the Metreon?" Siri displays the showtimes. You can tap to see the trailer. You can also ask questions about directors and actors, like "Show me movies starring Scarlett Johansson."
Siri has also learned how to launch apps. Say "Play Temple Run," and it opens the game.
There's also a new feature called Eyes Free. Apple is working with car manufacturers to have a button placed in the steering wheel to bring up Siri. A number of auto manufacturers have already committed to it, including General Motors and BMW, Mercedes, Land Rover, Honda and Toyota.
Siri will speak more languages, including French, Spanish, Italian, German, Korean, Mandarin for Taiwan, and Cantonese. Apple is taking Siri's local search, which has been United States only, around the world.
Nick Bilton notes: You can tell it's a room full of nerds here. When Apple demoed the new Game Center with a car racing game for the Mac, there were loud cheers from the audience. When Scott Forstall showed off the new iOS 6 and Siri's ability to share sports scores and sports statistics, there was dead silence.
Next up is Scott Forstall, who is in charge of iOS. He says 365 million iOS devices have been sold. More than 80 percent of customers are running the latest version, iOS 5. He presents a pie chart showing how most Android users have an older version of that operating system. A jab at Google.
Apple is now sending seven billion push notifications through iOS every day, 1.5 trillion push notifications altogether. There are 140 million iMessage users, with 150 billion messages sent, one billion a day. Twitter integration with iOS has spawned 10 billion tweets.
Next is Game Center, which has 130 million users and records five billion scores a week.
Mr. Forstall says 75 percent of iOS users say in surveys that they are "very satisfied," compared to less than 50 percent for the competition, like Android.
Next, a new technology in OS X called Power Nap. It keeps your Mac up to date while it sleeps. It fetches your e-mail and reminder updates, and even fetches your photo stream. It will also back itself up to your Time Capsule and download software updates automatically. It operates silently and will supposedly be power efficient.
Next is AirPlay. It's the easiest way to get whatever is on your Mac to your TV, Mr. Federighi says. It's an icon in the upper right corner. Select "Apple TV," and what's on your Mac screen will show up on the television.
Then there's Game Center for Mac. It's the same Game Center account you use on iOS devices. Apple is supporting cross-platform games between Macs and iOS devices.
It's demo time. Mr. Federighi presses a button and instantly his Mac display is showing on a TV. He opens Game Center. There's a man on stage wearing a racecar driver's outfit and helmet. Mr. Federighi invites him to play CSR Racing on Game Center. They're playing the game over AirPlay on the projector.
He's wrapping up Mountain Lion. First, he wants to highlight the features Apple is adding in China: improving the input method for Chinese characters, and a new Chinese dictionary. And they're making it easier to set up the Mac for Chinese e-mail. "Get your apps ready for China," Mr. Federighi says.
Mountain Lion will ship in July via the Mac App store, at $19.99. That's $10 cheaper than the previous version.
Moving on to Notification Center, which works like the one on the iPhone and iPad. Alerts show up in the upper-right corner. Notifications  show up there too.
The next topic: voice dictation on the Mac. Anywhere you can type, you can now talk. You can talk into your Facebook  page in the browser if you want. Or even in third-party apps like Microsoft Word.
Next, sharing, which is built into more apps. There's a share button that can be embedded in a tool bar, and you can share to Twitter or Flickr. No sign of Facebook yet…
The new Safari in Mountain Lion has a unified "smart search" field. You type in it and Safari will choose a top hit from bookmarks, browsing history and other data. There's an iCloud Tabs feature, where you can see the tabs you have open on other Macs. There's a new feature called tabbed view. He's demonstrating it in a video. First he's showing faster scrolling and iCloud tabs. The tabbed view displays Web pages similar to the way Cover Flow does in iTunes, which lets you flip through albums. You get a tiled view of all your open pages and can swipe between them.
Now he's showing the share feature. In iPhoto he presses the share button and shares a photo with a friend via Messages. If a friend replies it shows up in the notification box in the upper right.
Nick Bilton notes: Apple's updates to its desktop operating system continue to look more and more like iOS. Integration with iCloud, mobile-style dictation, multitouch and the ability to send Twitter messages directly from the operating system, all continue to blur the line between mobile and desktop.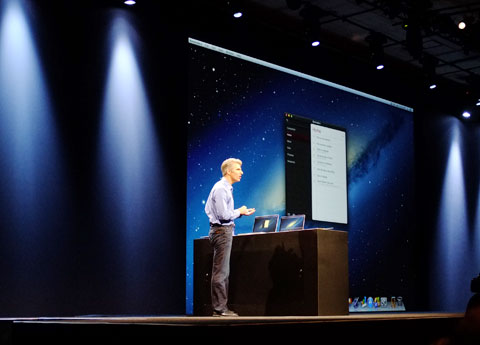 Nick Bilton/The New York Times
Craig Federighi is on stage to talk about Mac OS X. Apple has 66 million Mac users now. Lion was the first Mac OS that was distributed electronically, not on discs. Now 40 percent of OS X users are running Lion. Windows 7 took 27 months to get to that same level, Mr. Federighi says.
Now moving on to Mountain Lion. It has 200 new features. He's going over eight new features starting with iCloud, which he says has 125 million registered users. Apps have been configured to work with iCloud: Mail, Calendar, etc. With Mountain Lion there will be iCloud in Messages, Reminders, Notes, Pages, Numbers and Keynote. And there's a software developer kit so outside programmers can add iCloud to their apps too. He's showing the new Reminders app, which has location-based reminders.
A closer look at the Messages app: you can send a message to people's phones, or to other chat services. It can also transmit HD video. The Numbers app shows all of Mr. Federighi's documents in the cloud. Now he's opening a poster in Pages. He makes a change on his iPhone and that change appears automatically in the poster on the Mac.
Now he's talking about the inside of the new MacBook Pro, which is dominated by a battery pack to handle the power needs of the retina display. Quad-core processors up to 2.7 gigahertz, and up to 16 gigabytes of RAM, with Nvidia Kepler graphics. Up to 768 gigabytes of flash storage, up to 7 hours of battery life, 30 days of standby.
It has a new version of the MagSafe adapter, thinner than the current one. A Thunderbolt port as well. A glass multitouch trackpad, a backlit keyboard, Bluetooth 4.0, a FaceTime HD camera, dual microphones, stereo speakers. Now they're showing a video of it.
Jonathan Ive, Apple's chief designer, opens the video. He says the new MacBook Pro is the best notebook Apple has ever built, and that Apple knew flash storage was crucial for speed. "It's built for extreme levels of performance, but at the same time it's remarkably portable," says Mr. Ive. They're introducing a new asymmetrical design for the fan blades to keep the machine quiet and cool.
Now the video is showing Aperture, the photo-editing software, and Final Cut Pro X. The notebook can handle 1080p high-definition video.
The new machine begins at $2,200 for the 15.4-inch model with 256 gigabytes of storage and a 2.3-gigahertz quad-core processor. It starts shipping today.
Nick Bilton notes: As I predicted in late 2010, Apple is slowly eliminating the DVD and CD drives in its laptops. This is likely to help Apple promote iCloud, the company's cloud-based service.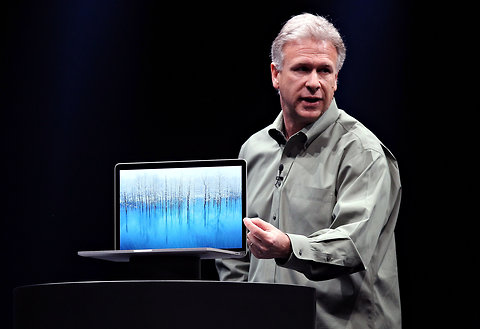 Justin Sullivan/Getty ImagesPhil Schiller announces the new MacBook Pro.
Nick Bilton notes: The new MacBook Pro has the same type of higher-resolution retina display that was first introduced on the iPhone 4, and then the new iPad. This is a trend that you will see with other laptops soon. You can see the company is focusing on photography and video-editing by introducing these screens.
Final Cut Pro 10, the video-editing software, is being updated to handle the retina display as well. Lots of applications will need updating. Apple has been working with some key developers, including Adobe. There's a version of Photoshop that will be "jaw-dropping," Mr. Schiller says. Autodesk too. Diablo 3.
But there's one more notebook. A mysterious silhouette is on the big screen. "What would make a next-generation MacBook Pro? You'd want it to have a killer new display," Mr. Schiller says. "You want it to be radically thin and light. And of course you want it to be bold and embracing the newest technologies."
It's a new MacBook Pro, thinner, with a new display. It's thinner than Mr. Schiller's finger — 0.71 inch. He calls it "a true breakthrough in engineering." One-quarter thinner than the previous model, weighing in at 4.46 pounds. Oh, and here's the retina display.
Now Mr. Schiller is moving on to upgrades for the MacBook Pro. Ivy Bridge processors again, with speeds up to 2.7 gigahertz. Up to 60 percent faster graphics, and also updating the ports to USB 3.
With 1280-by-800 pixel displays for  the 13-inch, it doesn't look like we're seeing retina display MacBooks, as was widely rumored. But the new MacBook Pros are shipping today.
Philip W. Schiller, Apple's marketing chief, is coming on stage to talk about new notebooks. The MacBook Air is a breakthrough, he says, "and everyone is trying to copy it."
The Air is getting an upgrade with Intel Ivy Bridge processors. These go up to 2.0 gigahertz, dual-core i7. Translation: They are faster.
The Air can now have up to 512 gigabytes of flash storage, which it can access more quickly. "It is faster than any hard drive we can put in a notebook today." They're adding USB 3 ports, too. The FaceTime camera now has 720p resolution. The 11-inch starts at $1,000, the 13-inch starts at $1,200.
Photo by Nick Bilton/The New York Times
There are now 400 million accounts on the iTunes Store, Mr. Cook says. There are 650,000 apps in the store, 225,000 designed specifically for the iPad. Customers have downloaded 30 billion apps. "We've written checks for over $5 billion for you guys," he tells developers. "It's become an economy in itself."
Now we're going to see a video highlighting apps that have changed people's lives. A blind man walks through the forest using an app that gives him information about his position and tells him when he's approaching certain places. Now we see a teacher in India giving anatomy lessons with the iPad.
Airbnb executives are talking about their app in the video. "We don't think of it as a business; it's more like meeting new friends."
Now there's an app showing a child with a learning disability, interacting with a game from Toca Boca on the iPad. The video is ending with a montage of people thanking Apple. Group hug.
Timothy D. Cook, Apple's chief executive, takes the stage and notes that this is Apple's 23rd Worldwide Developers Conference. "It's older than many of us are. It sold out in 1 hour and 43 minutes." There are over a thousand Apple engineers here to help developers. "Apple is closed this week," says Mr. Cook.
Siri is opening the keynote. She says she's warming up the crowd. A Siri joke: How many developers does it take to change a light bulb? None, that's a hardware problem. A GarageBand drumroll plays after each joke. Siri says it's hard for her to be emotional.
Article source: http://bits.blogs.nytimes.com/2012/06/11/live-blogging-apples-conference-keynote/?partner=rss&emc=rss