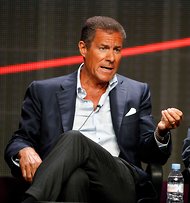 Fred Prouser/Reuters Richard Plepler.
5:21 p.m. | Updated
HBO announced a transition in its top management on Thursday, elevating Richard Plepler to the role of chief executive, replacing Bill Nelson, who will step down at the end of the year.
The change, announced by Jeffrey L. Bewkes, the chairman of HBO's parent company, Time Warner, amounted to a shift upward for the network's entire top management team. Mr. Plepler had been co-president with Eric Kessler, working under Mr. Nelson. Now, Mr. Kessler will become sole president, reporting to Mr. Plepler.
Michael Lombardo, who has been president for programming since 2007, will continue in that role and will also report to Mr. Plepler.
The naming of Mr. Plepler as chief executive completes his remarkable ascension at the network, which he joined in 1992 as head public relations executive.
Mr. Nelson had a 30-year career at HBO, mainly in business affairs positions. Mr. Plepler has been more of an active public voice for the network and has been deeply involved with the creative side of the company. With Mr. Lombardo, he has been responsible for much of the programming on HBO since 2007.
Mr. Kessler, who is credited with the success of HBO's on-demand system, HBO Go, and with expanding the network's global reach to 100 million subscribers, will also become chief operating officer.
In praising Mr. Nelson, whom he called a "world-class C.E.O.," Mr. Bewkes specifically cited the period since 2007 as a time when HBO was able to "re-establish its pre-eminence in programming." He said the new management team had been the driving force behind that creative renaissance.
The most popular shows during the tenures of Mr. Plepler, Mr. Kessler and Mr. Lombardo have included "True Blood," "Boardwalk Empire," "Game of Thrones," "Girls" and "Veep." All but "True Blood" have been nominated for Emmy Awards this year as either best drama or best comedy in television. The network has also continued to dominate the Emmys for television movies, and owns the favorite this year in "Game Change," which dramatized Sarah Palin's vice-presidential campaign.
HBO installed the previous management group under Mr. Nelson after a slow period when its previous supremacy in cable programming, led by shows like "The Sopranos" and "Sex and the City," came to an abrupt end.
Mr. Nelson had previously been chief operating officer, responsible for marketing and distribution.
---
Bill Carter writes about the television industry. Follow @wjcarter on Twitter.
Article source: http://mediadecoder.blogs.nytimes.com/2012/09/20/richard-plepler-to-replace-bill-nelson-atop-hbo/?partner=rss&emc=rss