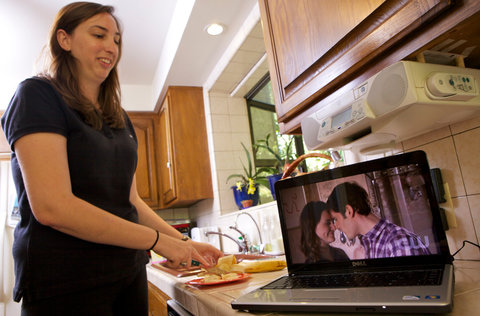 Damian Dovarganes/Associated Press People watch TV in lots of ways Nielsen does not count. The company said it would add TVs hooked only to the Internet.
9:04 p.m. | Updated
For media executives, there may be nothing worse than a viewer or listener who is not counted.
On Thursday, in a move that might help ease those concerns, Nielsen said that it would start considering Americans who have spurned cable, but who have a television set hooked up to the Internet, as "television households," potentially adding to the sample of homes that are rated by the company, the standard for television ratings. In front of skeptical network officials, the company pledged to measure TV viewership on iPads and other mobile devices in the future.
Those executives have a gnawing feeling that their consumers are being missed more and more often. As new pipelines open up for viewers and listeners through social media, mobile apps and game consoles, advertisers fret that they don't know how many people are really seeing their ads, television networks fear they're not getting credit for getting those people to tune in and record companies wonder how they can keep up with all the ways their customers consume music.
These problems will only worsen in the years to come as new technologies further erase the boundaries that once existed between television and Internet; newspaper and cable news network; video and article.
Nielsen's move was announced a day after Billboard said it would start including YouTube streams in its calculation of the most popular songs of the week. That shift immediately vaulted "Harlem Shake," a modestly selling hip-hop single that has become a viral video sensation, to the top of the charts.
Nielsen's decision was the culmination of two years of thinking, a painfully long time for media executives. Their collective sense of urgency has increased as new Web services like Aereo have allowed people to watch TV channels, ads and all, without a cable subscription or an antenna.
The new definition "will include those households who are receiving broadband Internet and putting it onto a television set," said Pat McDonough, the senior vice president for insights and analysis at Nielsen. Currently a "television set" is the flat-screen kind, but in the future a tablet computer like an iPad could also be considered a TV set.
Nielsen's decision won't have an immediate impact on the ratings system that governs billions of dollars in advertising decisions, because just 0.6 percent of households in the United States meet the new description.
As that statistic shows, a large majority of households have chosen not to cut the cable TV cord to date. But predictions of "cord-cutting" continue to resonate; the Dish Network chief Charles Ergen said earlier this week that "I think cord-cutting is here to stay and will accelerate over time" as customers reject increases to their monthly bills. By beginning to count Internet-only homes, Nielsen is trying to get ahead of the change.
In some media corners on Thursday, the reaction was summarized in a word: Finally. Television executives who have long prodded Nielsen to evolve — and been disappointed before — said they would wait and see how far the company actually goes in counting online views.
Right now, most Internet views of their shows are not counted in the TV ratings that serve as a kind of nationwide popularity contest, either because there are no ads attached (see Netflix) or because the ads are not exactly the same as the ones that appeared on the original TV broadcast (see Hulu). But new services are popping up that stream TV shows and ads without the need for cable.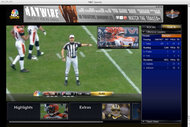 NBC, via Associated Press Broadcasters are eager to have television ratings consider viewers who, for instance, watch N.F.L. games on the Internet.
Aereo, which is available in New York and is expanding to other cities, is one. NimbleTV, which is in a test phase, is another. Further into the future, Intel is planning to start a cablelike subscription service that will be delivered over the Internet, and a bevy of other companies are interested in doing the same thing. If and when these services steal customers away from cable, advertisers will need to know if their spots are being seen and Nielsen will need to track it.
Alternatively, cable companies and the owners of cable channels are trying to keep customers by streaming shows in a manner known as TV Everywhere. In some cases, these services need to be rated, too.
Ms. McDonough said in a telephone interview on Thursday that viewing on Aereo would now be included in the Nielsen ratings sample. Theoretically, a cablelike service from Intel would be included, too.
The new definition also applies to homes that have cable but also have extra TV sets that are hooked up only to PlayStations, Rokus or other Internet devices.
The changes emanated from a measurement committee comprising Nielsen executives and two dozen representatives from networks and advertising firms. The committee met in New York on Tuesday and discussed Nielsen's proposals. They were subsequently obtained by The Hollywood Reporter.
The proposals, Nielsen said in a statement, were necessary to "more completely reflect media consumption."
There is intense anxiety about the ratings at the major television networks because, in some cases, their ratings are evaporating before their eyes. The culprits include digital video recorder use, delayed viewership thanks to the existence of Netflix and other online sources, and increased competition from other channels and the Internet. Counting the small sliver of homes that have Internet-connected TVs, but not cable, will not make a big difference in the short term.
Then again, as Ms. McDonough put it, "It's up to the networks to decide how best they want to monetize their content."
If a network like ABC decided to run the same commercials with "Modern Family" on TV and on Hulu and on ABC.com and on its app, Nielsen would count all those views equally.
Article source: http://mediadecoder.blogs.nytimes.com/2013/02/21/tvs-connected-to-the-internet-to-be-counted-by-nielsen/?partner=rss&emc=rss