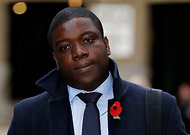 Olivia Harris/ReutersThe former UBS trader Kweku Adoboli arriving at court in London on Monday.
LONDON – The lawyer representing Kweku M. Adoboli, a former UBS trader standing trial on fraud allegations, on Monday likened his client to Spartacus, the main character in the 1960s Hollywood movie about a Thracian slave.
In his closing remarks to the jury, Charles Sherrard said Mr. Adoboli was like Spartacus, who was portrayed by Kirk Douglas, because he stepped forward to take the blame. But unlike in the movie, where Spartacus's fellow gladiators all claimed to be Spartacus to avoid him being singled out for punishment, Mr. Adoboli's team members were just too happy for him to take responsibility.
"Mr. Adoboli stands up and says 'I am Spartacus' and the other three stand up and said 'yes, that's him!', Mr. Sherrard told the jury in a London courtroom.
"Mr. Adoboli believes more in community than the self," Mr. Sherrard said before quoting e-mail exchanges between Mr. Adoboli and colleagues, in which the former trader wrote "We are a team, we work together. One fails, we all fail. One succeeds, we all succeed."
The prosecution previously argued that Mr. Adoboli was "arrogant" and a "gambler," who sidestepped rules when it suited him. Mr. Adoboli, 32, is charged with six counts of fraud and false accounting in connection with a $2.3 billion trading loss at UBS. He could face more than 10 years in prison if convicted.
The defense has said that Mr. Adoboli's activities were well known in the bank. His supervisors, according to the defense, condoned the actions because they proved to be profitable.
The jury is expected to start deliberating on Tuesday or Wednesday, after a summary of the case by the judge. A verdict is not expected before the middle of next week.
UBS is not a defendant in the case, and is not permitted to comment on criminal cases, according to British law.
Article source: http://dealbook.nytimes.com/2012/11/12/defense-for-ex-ubs-trader-draws-comparisons-to-spartacus/?partner=rss&emc=rss