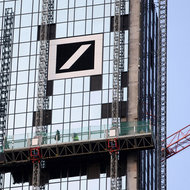 Ralph Orlowski/Getty ImagesThe headquarters of Deutsche Bank in Frankfurt, under construction in 2009.
12:43 p.m. | Updated
FRANKFURT — Deutsche Bank reported earnings on Tuesday that were better than expected, illustrating how lenders were beginning to benefit from the ebbing of tensions in the euro zone.
But the report also provided a reminder that banks continued to struggle with the legacy of the financial crisis and pressure from regulators.
Deutsche Bank, Germany's largest lender, said on Tuesday that profit declined 3 percent, to 755 million euros ($975 million), in the third quarter, as a comeback in investment banking revenue offset costs related to the bank's legal problems and a restructuring program.
Shares in the bank rose almost 4 percent in Frankfurt, in part because Stefan Krause, the bank's chief financial officer, said some of the decline in profit merely reflected accounting rules and would be recouped in future quarters.
But, in a conference call with analysts, Mr. Krause had to fend off suggestions that Deutsche Bank carried more risk than other European banks and was vulnerable to proposed regulations that would curtail profitable but risky businesses.
Related Links
The bank's relatively high dependence on borrowed money to operate ''is the wrong indicator to look at,'' Mr. Krause said. ''We are quite satisfied with our third-quarter results,'' he said.
Overall revenue in the three months ended Sept. 30 rose 18 percent, to 8.7 billion euros. Revenue in the investment banking unit rose 67 percent, to 2.5 billion euros, as customers stepped up trading of stocks, bonds and other securities.
That was a reversal from the previous quarters, when Deutsche Bank clients avoided volatile financial markets, cutting into the fees that the bank earned from trades.
Deutsche Bank also recorded gains in other areas, including the unit that serves private and business customers. That business, which includes the Postbank network serving individual depositors, increased pretax profit 59 percent, to 492 million euros.
Fear of a breakup of the euro zone has eased after the European Central Bank said in September it was willing to buy bonds of countries like Spain, if necessary, to keep their borrowing costs under control. That has encouraged investors to return to markets, and it has benefited banks.
Anshu Jain and Jürgen Fitschen, who share chief executive duties at the bank, warned in a news release that the economic environment remained unsettled.
''We will maintain a cautious and risk-focused approach," they said.
Deutsche Bank has built up the size of its capital reserves, but still has a thinner cushion than other large banks, analysts said. ''The key issue remains weak capital,'' analysts at J.P. Morgan Cazenove said in a note to investors Tuesday.
Deutsche Bank is also under pressure from regulators. Proposed European Union rules would compel banks to isolate their retail and lending businesses from risks created by trading and other investment banking activities. Deutsche Bank, which has often earned much of its profit from investment banking, could be among those most affected if the rules go into force, some analysts say.
Mr. Krause, the chief financial officer, said the proposed changes would be bad for the European economy, by curtailing banks' ability to recycle excess cash into other uses. ''We hope that sense will prevail,'' he said.
He was referring to a report by a group of experts convened by the European Commission and led by Erkki Liikanen, governor of the Bank of Finland. They recommended this month that the European Union require banks to put trading activities in separate legal units, to protect ordinary depositors.
Hugo Bänziger, former chief risk officer of Deutsche Bank, served on the expert panel and endorsed its recommendations.
Deutsche Bank continues to wrestle with legal proceedings related to charges of unethical or illegal behavior in recent years. It is among the banks accused of manipulating the London interbank offered rate, or Libor, which is used to set interest rates on trillions of dollars of financial contracts worldwide.
Expenses related to litigation cut profit by 289 million euros in the quarter, Deutsche Bank said.
The bank disclosed on Tuesday that it had been asked by American regulators to provide information on its processing of dollar payments to people from countries that are subject to embargoes. The regulators are examining whether Deutsche Bank's activities were in compliance with state and federal laws, the bank said.
During the conference call, Mr. Krause declined to elaborate on the inquiry.
Costs related to a restructuring program, which is intended to make Deutsche Bank more efficient and less complex, subtracted another 276 million euros from third-quarter profit.
Deutsche Bank is trying to reduce annual operating costs by 4.5 billion euros in three years. About 1,500 jobs are being eliminated, and more cuts are likely, but so far the restructuring is not as radical as the one Deutsche Bank's Swiss rival, UBS, announced on Tuesday. UBS said it would eliminate 10,000 jobs, after reporting a quarterly loss of 2.2 billion Swiss francs ($2.3 billion).
In September, Mr. Jain and Mr. Fitschen, the co-chief executives, outlined an overhaul of the bank that included lower profit targets, bigger capital buffers and smaller bonuses for top executives.
''We are aware that we are now entering a phase of execution and delivery on the promises we made,'' Mr. Krause said on Tuesday.
---
This post has been revised to reflect the following correction:
Correction: October 30, 2012
An earlier version of the article and headline had the incorrect amount in U.S. dollars for Deutsche Bank's third-quarter profit. The bank's profit was $975 million, not $795 million.
Article source: http://dealbook.nytimes.com/2012/10/30/deutsche-bank-records-975-million-profit-in-third-quarter/?partner=rss&emc=rss