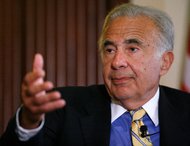 Chip East/ReutersCarl C. Icahn
A special committee of Dell's board has reached an agreement with Carl C. Icahn that limits his ownership stake in the company while allowing him to contact other shareholders about a possible bid for the computer maker.
Under the deal announced on Tuesday, Mr. Icahn has agreed not to acquire more than 10 percent of Dell's shares or enter into agreements with shareholders who collectively own more than 15 percent of the shares. In return, the company has given him a limited waiver under Delaware corporate law that enables him to engage with other Dell shareholders.
"The special committee believes that granting the limited waiver to Mr. Icahn while capping his share ownership will maximize the chances of eliciting a superior proposal from Mr. Icahn while at the same time protecting shareholders against potential accumulation of an unduly influential voting interest," the Dell committee said in a statement.
Mr. Icahn and the private equity firm Blackstone Group were the two preliminary bidders to emerge last month from the special committee's process of soliciting potential alternatives to the proposed $13.65-a-share offer from the company's founder, Michael S. Dell, and the private equity firm Silver Lake.
Blackstone and Mr. Icahn have been inspecting Dell's books before deciding whether to make final competing bids to the $24.4 billion buyout.
Mr. Icahn has previously outlined an offer of $15 a share for about 58 percent of the company. Under that plan, he would have a 24.1 percent stake in Dell.
Blackstone, which is working with the investment firms Francisco Partners and Insight Venture Partners, has proposed offering more than $14.25 a share for control of Dell, but not for the whole company.
Article source: http://dealbook.nytimes.com/2013/04/16/dell-strikes-deal-with-icahn/?partner=rss&emc=rss