8:32 a.m. | Updated
LONDON – Investors in Standard Chartered breathed a collective sigh of relief on Wednesday.
The positive reaction came after the British bank agreed to a $340 million fine related to charges that it had laundered hundreds of billions of dollars in money with Iran and lied to regulators.
The agreement ends speculation that Standard Chartered might lose its New York State banking license. The bank's top executives had been expected to defend its actions in a hearing on Wednesday, which was postponed after the settlement was announced.
Standard Chartered, which mainly operates in fast-growing emerging markets, has had a New York office since 1976. That office primarily operates a dollar-clearing business, processing around $190 billion a day for clients from around the world.
Standard Chartered may still face a combined fine from other American regulatory authorities of around $360 million, according to analysts' estimates. Yet the agreement with the New York State Department of Financial Services has drawn a line under many of the accusations.
Facundo Arrizabalaga/European Pressphoto AgencyA Standard Chartered bank in London.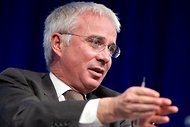 Shawn Thew/European Pressphoto AgencyPeter Sands, the chief executive of Standard Chartered, flew to New York to negotiate over the weekend with state regulators.
"We have sought to act in the best interests of our shareholders, clients, customers and staff," Peter Sands, the bank's chief executive, said in a memo to employees late on Tuesday, whose contents was confirmed by a company spokesman. "There are many reasons why firms settle such agreements."
The British bank and the New York regulator had been at loggerheads over the level of money laundering activity at the firm.
New York authorities had claimed that Standard Chartered schemed for nearly a decade with Iran to hide 60,000 transactions worth $250 billion from regulators. The bank has maintained that the transaction value of the laundering activities had totaled only $14 million.
"Whilst disproportionate, the settlement protects shareholder and customer interests against the regulatory assault," Ian Gordon, a banking analyst at Investec in London, said in a research note to investors. "In our view, Standard Chartered has acted with pragmatism and integrity in the face of extreme provocation."
Shares in Standard Chartered rose around 5 percent, to £14.26, or $22.37, in afternoon trading in London on Wednesday, though the stock is still down 9 percent from when the money laundering charges were announced this month. Its shares had dropped as much as 25 percent — the sharpest one-day decline in more than two decades — a day after the charges were made public on Aug. 6.
By agreeing to a $340 million settlement, the British bank is also unlikely to experience an additional major decline in its share price, according to Cormac Leech, a banking analyst at Liberum Capital in London, who expects the stock to rise to £15.30 in the near term.
Mr. Leech said in a research note to investors on Wednesday that "the relatively small" $340 million settlement suggested a "significant moderation in attitude" by New York regulators.
Standard Chartered is not the first European bank to face money-laundering charges.
The British bank HSBC has set aside $700 million to cover the potential fines, settlements and other expenses related to charges by United States authorities. The Dutch bank ING also agreed to a $619 million fine in June for processing financial transactions for Cuban and Iranian companies.
Article source: http://dealbook.nytimes.com/2012/08/15/standard-chartereds-shares-rally-after-settlement/?partner=rss&emc=rss