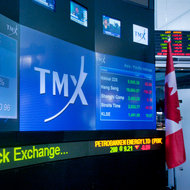 Norm Betts/Bloomberg NewsThe group seeking control of the Toronto Stock Exchange is dominated by large Canadian banks.
Canada's competition regulator has "serious concerns" about a plan by 13 financial institutions to purchase the Toronto Stock Exchange's parent company for 3.8 billion Canadian dollars, the acquirers said on Wednesday.
There was widespread anticipation that the Maple Group's proposal to buy the TMX Group would run into problems under Canada's competition laws, which have been recently strengthened. The acquisition group is dominated by three of Canada's five largest banks and includes several major pension funds and insurance companies. Smaller players in the financial community have been concerned that they will not have equal access to markets if the takeover of the TMX Group is approved.
The Maple Group said Melanie L. Aitken, the commissioner of competition, raised her concerns in a private meeting on Tuesday. While the group said she was still open to talks, her office has been studying the proposal for some time, suggesting that the outstanding problems might be difficult to resolve.
The setback comes almost a year after the TMX Group announced a merger with the London Stock Exchange, which was ultimately shelved in favor of the current deal. The Maple Group was formed in part to provide an alternative that would keep the Toronto Exchange in Canadian hands.
The statement from the Maple Group did not offer any specifics. But smaller financial industry players have raised two broad issues.
Some are concerned about access to the exchange under the Maple Group's control. If its acquisition is successful, the Toronto Stock Exchange will be combined with the Alpha Group, an alternative trading system controlled by the large banks, and it will handle about 85 percent of Canadian equities trading.
Smaller members of the financial community are also worried that the Maple Group's plan to also acquire Canadian Depository for Securities, the settlement and clearing service for the Toronto exchange, will push costs higher. At the moment, that service runs on a cost recovery basis. The Maple Group will not commit to keeping its fees as low as possible.
While approval from the Competition Bureau headed by Ms. Aitken is crucial to a successful deal, the transaction must also be approved by four provincial securities regulators. There has been some public opposition to the plan in Quebec.
Article source: http://feeds.nytimes.com/click.phdo?i=57c0a3504a1c8b644d4d57be2129c050