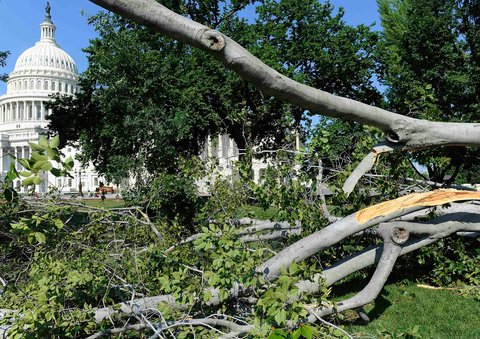 Jonathan Ernst/ReutersTrees littered the east lawn of the Capitol in Washington.
People who tried to watch Netflix on Friday evening saw nothing but red. Instagram users couldn't upload or view photos. And a number of other Web sites and services were knocked offline. Storms had disrupted Amazon Web Services, which stores vast amounts of data for companies worldwide.
The problems first began around 11 p.m., when a roiling storm caused numerous electrical failures on the East Coast that left two million people without power and at least six people dead.
Late Friday, on the company's status blog, Amazon said it was "investigating elevated error rates impacting a limited number" of customers. The company noted that the failure had happened at a server facility in Virginia and it was because of the lighting storm in the area.
While Amazon continued to update its status blog, information on the troubles remained relatively sparse throughout the evening.
As of Saturday morning, the company said it had managed to get some services back online, but was still working to resolve a number of remaining shutdowns. "We are continuing our recovery efforts for the remaining EC2 instances," the company wrote at 11:38 a.m. on the status blog. EC2 is the name of the server system used for storage.
Amazon did not immediately respond to a request for details about the problems and when it expected all the servers would be back to normal.
Many of the companies that use Amazon Web Services were left waiting for updates, too, passing along snippets of information to their customers.
Instagram, the photo-sharing service, said on Twitter, "Due to severe electrical storms, our host had a power outage, no data is lost – we've been working through the night to restore service." Instagram users reshared the message more than 31,000 times.
Netflix and Pinterest, which were both completely offline for most of the evening, also took to Twitter to tell users the status of the failure. Foursquare was partly affected and updated its own status blog to tell customers.
Most of these public-facing sites were back online by Saturday morning, although some services seemed spotty.
As a number of services, and customers, have come to rely on Amazon for storage, these shutdowns leave companies and analysts questioning the viability of cloud-based storage for businesses — specifically when many companies don't have a fallback option as a backup.
Amazon has suffered repeated failures in recent months. The company was offline from a major shutdown in June. In April areas of the company's storage facility went down for several days.
Article source: http://bits.blogs.nytimes.com/2012/06/30/amazon-web-services-knocked-offline-by-storms/?partner=rss&emc=rss