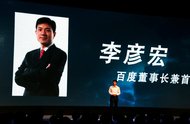 David Gray/ReutersRobin Li, chief of Baidu, the Chinese search engine.
HONG KONG —Baidu, China's biggest Internet search engine company, said Tuesday that it had reached a preliminary agreement to pay $1.9 billion to acquire 91 Wireless, a major developer of app stores in China.
The proposed deal comes as Baidu seeks to branch out beyond its traditional search business in order to better compete against the rival Chinese Internet giants Alibaba and Tencent, and is the latest in a series of acquisitions in the sector.
In May, Baidu agreed to pay $370 million for the online video business of PPStream. One week earlier, Alibaba had said it would pay $586 million for an 18 percent stake in Weibo, a hugely popular Twitter-like microblogging service in China owned by Sina Corporation.
Baidu, which is listed on the Nasdaq, said Tuesday that it had signed a legally binding memorandum of understanding to acquire majority control of 91 Wireless from NetDragon Websoft, a Hong Kong-listed company that invests in online gaming and mobile Internet businesses in China.
The preliminary deal calls for Baidu to pay NetDragon $1.09 billion for its 57.4 percent stake in 91 Wireless, and to offer around $800 million on similar terms to the owners of the remaining 42.6 percent stake, who were not identified. The companies have until Aug. 14 to agree on final terms for the transaction.
Last month, NetDragon said revenue in its mobile Internet business in the first quarter of the year rose to 144.7 million renminbi, or $23.5 million, more than tripling from a year earlier.
A key part of that business is 91 Wireless, which was set up in 2007 and today operates the popular 91 Assistant and HiMarket app stores in China, which run on Google's Android operating system. As of March, the two stores had reached more than 10 billion cumulative app downloads, according to NetDragon's latest earnings release. The 91 Wireless unit also develops its own apps, like PandaReader, which allows users to read and bookmark documents created in a number of file formats.
NetDragon said Tuesday in a stock exchange filing that a separate plan announced in December to seek a potential spinoff of the 91 Wireless business on Hong Kong's secondary board would be scrapped, pending finalization of the sale to Baidu.
Shares in NetDragon plunged Tuesday on news of the proposed sale and abandonment of the spinoff plans, and were trading down 17.7 percent as of noon in Hong Kong. Still, the stock has risen about 80 percent this year in anticipation the company would cash out of 91 Wireless.
Article source: http://dealbook.nytimes.com/2013/07/15/baidu-to-pay-1-9-billion-for-chinese-app-store-operator/?partner=rss&emc=rss