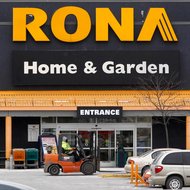 Chris Wattie/ReutersA Rona hardware store in Ottawa.
Lowe's said on Monday that it had withdrawn its $1.8 billion takeover bid for a Canadian counterpart, Rona, citing the home-improvement chain's unwillingness to hold merger talks.
Shortly after it was unveiled in July, Lowe's offer of 14.50 Canadian dollars a share was rejected by Rona, prompting the American retailer to go hostile.
Lowe's had been seeking to expand in Canada, whose relatively healthy housing market and economy have drawn growth-hungry companies. It entered the country in 2007, and has about 31 big-box stores. Buying Rona would give it an additional 1,500 shops, including 840 run under the company's own name and several franchises and affiliated outlets.
But the bid was met by strong opposition, including comments by the finance minister of Quebec, where Rona is based, describing a potential merger as not appearing "to be in the interest of Quebec or Canada."
"Lowe's has repeatedly attempted to engage the board of directors of Rona with respect to its proposal in order to conduct confirmatory due diligence and move forward with a friendly, negotiated transaction," Lowe's said in a statement.
Lowe's added that it was committed to the Canadian market.
Article source: http://dealbook.nytimes.com/2012/09/17/lowes-pulls-1-8-billion-bid-for-rona/?partner=rss&emc=rss