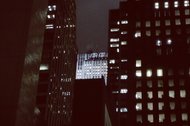 The G.E. sign was not lit hours after Comcast's purchase announcement.
8:53 p.m. | Updated Comcast gave NBCUniversal a $16.7 billion vote of confidence on Tuesday, agreeing to pay that sum to acquire General Electric's remaining 49 percent stake in the entertainment company. The deal accelerated a sales process that was expected to take several more years.
Brian Roberts, chief executive of Comcast, said the acquisition, which will be completed by the end of March, underscored a commitment to NBCUniversal and its highly profitable cable channels, expanding theme parks and the resurgent NBC broadcast network.
"We always thought it was a strong possibility that we'd some day own 100 percent," Mr. Roberts said in a telephone interview.
He added that the rapidly changing television business and the growing necessity of owning content as well as the delivery systems sped up the decision. "It's been a very smooth couple of years, and the content continues to get more valuable with new revenue streams," he said.
Comcast also said that NBCUniversal would buy the NBC studios and offices at 30 Rockefeller Center, as well as the CNBC headquarters in Englewood Cliffs, N.J. Those transactions will cost about $1.4 billion.
Mr. Roberts called the 30 Rockefeller Center offices "iconic" and said it would have been "expensive to replicate" studios elsewhere for the "Today" show, "Saturday Night Live," "Late Night With Jimmy Fallon" and other programs produced there. "We're proud to be associated with it," Mr. Roberts said of the building.
With the office space comes naming rights for the building, according to a General Electric spokeswoman. So it is possible that one of New York's most famous landmarks, with its giant red G.E. sign, could soon be displaying a Comcast sign instead.
When asked about a possible logo swap on the building, owned by Tishman Speyer, Mr. Roberts told CNBC, that is "not something we're focused on talking about today." Nevertheless, the sale was visible in a prominent way Tuesday night: the G.E. letters, which have adorned the top of 30 Rock for several decades, were not illuminated for an hour after sunset. But the lights flickered back on later in the evening.
Comcast, with a conservative, low-profile culture, had clashed with the G.E. approach, according to employees and executives in television. Comcast moved NBCUniversal's executive offices from the 52nd floor to the 51st floor — less opulent space that features smaller executive offices and a cozy communal coffee room instead of General Electric's lavish executive dining room.
Comcast took control of NBCUniversal in early 2011 by acquiring 51 percent of the media company from General Electric. The structure of the deal gave Comcast the option of buying out G.E. in a three-and-a-half to seven-year time frame. In part because of the clash in corporate cultures, television executives said, both sides were eager to accelerate the sale.
Price was also a factor. Mr. Roberts said he believed the stake would have cost more had Comcast waited. Also, he pointed to the company's strong fourth-quarter earnings to be released late Tuesday afternoon, which put it in a strong position to complete the sale.
Comcast reported a near record-breaking year with $20 billion in operating cash flow in the fiscal year 2012. In the three months that ended Dec. 31, Comcast's cash flow increased 7.3 percent to $5.3 billion. Revenue at NBCUniversal grew 4.8 percent to $6 billion.
"We've had two years to make the transition and to make the investments that we believe will continue to take off," Mr. Roberts said.
The transactions with General Electric will be largely financed with $11.4 billion of cash on hand, $4 billion of subsidiary senior unsecured notes to be issued to G.E. and a $2 billion in borrowings.
Even with the investment in NBCUniversal, Comcast said it would increase its dividend by 20 percent to 78 cents a share and buy back $2 billion in stock in 2013.
When it acquired the 51 percent stake two years ago, Comcast committed to paying about $6.5 billion in cash and contributed all of its cable channels, including E! and some regional sports networks, to the newly established NBCUniversal joint venture. Those channels were valued at $7.25 billion.
The transaction made Comcast, the single biggest cable provider in the United States, one of the biggest owners of cable channels, too. NBCUniversal operates the NBC broadcast network, 10 local NBC stations, USA, Bravo, Syfy, E!, MSNBC, CNBC, the NBC Sports Network, Telemundo, Universal Pictures, Universal Studios, and a long list of other media brands.
Mr. Roberts and Michael J. Angelakis, vice chairman and chief financial officer for the Comcast Corporation, led the negotiations that began last year with Jeffrey R. Immelt, chief executive of General Electric, and Keith Sharon, the company's chief financial officer. JPMorgan Chase, Goldman Sachs, Centerview Partners and CBRE provided financial and strategic advice.
The sale ends a long relationship between General Electric and NBC that goes back before the founding days of television. In 1926, the Radio Corporation of America created the NBC network. General Electric owned R.C.A. until 1930. It regained control of R.C.A., including NBC, in 1986, in a deal worth $6.4 billion at the time.
In a slide show on the company's "GE Reports" Web site titled "It's a Wrap: GE, NBC Part Ways, Together They've Changed History," G.E. said the deal with Comcast "caps a historic, centurylong journey for the two companies that gave birth to modern home entertainment."
Mr. Immelt has said that NBCUniversal did not mesh with G.E.'s core industrial businesses. That became even more apparent when the company became a minority stakeholder with no control over how the business was run, according to a person briefed on G.E.'s thinking who could not discuss private conversations publicly.
"By adding significant new capital to our balanced capital allocation plan, we can accelerate our share buyback plans while investing in growth in our core businesses," Mr. Immelt said in a statement. He added: "For nearly 30 years, NBC — and later NBCUniversal — has been a great business for G.E. and our investors."
Article source: http://mediadecoder.blogs.nytimes.com/2013/02/12/comcast-buying-g-e-s-stake-in-nbcuniversal-for-16-7-billion/?partner=rss&emc=rss