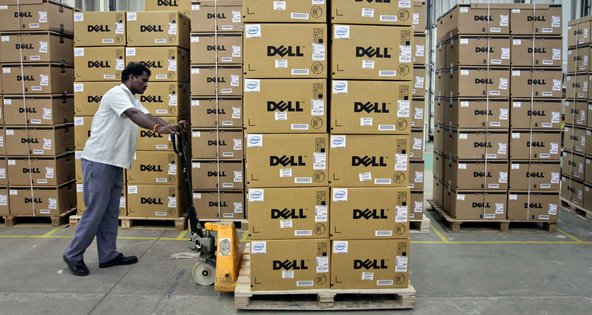 Babu/ReutersA Dell computer factory in Sriperumbudur Taluk, India.
For Dell, the future is data.
The company, best known for selling affordable personal computers, announced on Monday a $2.4 billion purchase of Quest Software. The deal will form the backbone of Dell's software business and push it deeper into the higher-margin enterprise market.
Quest is an uncharacteristically large acquisition for Dell, which has done only one other multibillion-dollar deal in its history. But Quest is the latest in a string of enterprise deals for Dell. Since February, the computer maker has announced six transactions, including SonicWall, a network security business and AppAssure, a security software maker.
Related Links
"The addition of Quest will enable Dell to deliver more competitive server, storage, networking and end user computing solutions and services to customers," John A. Swainson, president of Dell's software group, said in a statement.
Dell's shopping spree hinges on the thesis that the ballooning amount of data being generated by businesses and the Web is presenting new challenges for companies, which need to store, manage and protect more and more content.
Founded in 1987, Quest is one of the larger players in this arena, with about $857 million in annual sales. It sells a broad range of solutions, such as software to manage databases, protect information and simplify access to data. According to Mr. Swainson, Dell was particularly attracted to Quest's application monitoring software and its identity access software, which allows users to access multiple password-protected accounts with a single login.
"This is the right move for Dell," said Peter Misek, an analyst with Jeffries Company, said. "With Quest, Dell can provide a bundled offering for software applications in a very seamless way."
With the acquisition of a management software company, Dell is trying to position itself as a vendor for businesses that are trying to build and manage their own data centers, whether on site or in the cloud.
In a bid to become an end-to-end solutions company, Dell also aggressively sells servers and networking products to small- and medium-size businesses.
The enterprise campaign is an important one for this company in transition, which is still heavily dependent on its low-margin personal computing business. In the first quarter, Dell's profits fell 33 percent to $635 million. The soft spot, once again, was Dell's PC business, with mobile and desktop computer sales down about 6 percent in the quarter from a year ago. For Dell, based in Round Rock, Tex., the Quest acquisition did not come easy.
The company sparred for weeks with a competing investor group led by Insight Venture Partners, a private equity and venture capital firm, which originally offered $23 a share for Quest in March.
At $28 a share, Dell's offer is 22 percent higher than Insight's starting bid — and 33 percent higher than the average daily price of Quest's stock in February. Still, analysts say the company could wring out more value from Quest, based on possible cuts to its sales force and accounting departments.
"At $28, it's a pretty cheap valuation for Quest," said Rob D. Owens, an analyst with Pacific Crest Securities. "It has room to grow."
Quentin Hardy contributed to this post.
Article source: http://dealbook.nytimes.com/2012/07/02/dell-to-buy-quest-software-for-2-4-billion/?partner=rss&emc=rss