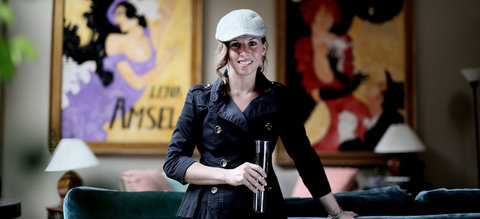 Sandy Huffaker for The New York Times Jayla Siciliano: "Keeping the product natural makes it much more difficult to find bottlers we can use."
The adventure of new ventures.
During the seven years she did product development and design for both Diesel in Santa Barbara, Calif., and Burton Snowboards in Burlington, Vt., Jayla Siciliano attended a lot of work-related parties and dinners and did plenty of social drinking. The problem was that she also had to get up the next morning and work, so during social events she started pouring sparkling water into her wine. "It was perfect," she said. "I could sip that all night and I would wake up feeling fine."
What she had concocted was a wine spritzer, the stuff women drank at summer barbecues in the 1970s and '80s. The spritzer always had a "girlie" reputation, solidified with the advent of wine coolers in the '80s, a bottled, sweetened version of the spritzer. The popularity of both spritzers and coolers faded in the '90s, but in the last year or so the spritzer has been making a comeback. (This newspaper wrote about that comeback last May). Now Ms. Siciliano has become part of its second wind.
She first created her version of the spritzer while at Burton Snowboards, where she spent a lot of time on boats in the summer, conducting business with "big guys that do a lot of snowboarding." They saw Ms. Siciliano pouring Pellegrino into her wine glass and started asking for some in theirs, too. "I thought if these guys want to drink a spritzer, I could break through the feminine reputation it has," she said.
She quit her job in 2007, moved back to Santa Barbara and started doing research into things like carbonation, bottling and flavor formulas. She also went back to school and got an M.B.A. at the University of San Diego. While there, she wrote the business plan for her wine spritzer start-up, Bon Affair, and started raising money. Although Ms. Siciliano did conduct focus groups and surveys to collect data on the importance of ingredients, she did no market research before diving in.
Ms. Siciliano did look at trends in the alcohol industry, however, and saw both the growth in light beer over the last 20 years and the growing interest in wine as indicators she was onto something. "I also bartended in college and again in 2009, when I was starting Bon Affair," she said, "and I saw lots of women looking for a lighter option after that second glass."
In April 2010, Ms. Siciliano connected with Troy Johnson, a food writer in San Diego and former creator and star of the Food Network show "Crave." Mr. Johnson said when he heard Ms. Siciliano describe her version of the spritzer — using good wine, no preservatives, no sweeteners — "lights started to go on. I had seen wine spritzers coming back a bit; the best mixologists were starting to play with them on their menus. And when I tasted it, it was so much better than I thought it was going to be. It has a very sophisticated palate."
Mr. Johnson was traveling for "Crave" last February when Ms. Siciliano called to tell him she had found two angels willing to invest $450,000 in Bon Affair. She asked if he was on board. "I was sitting in a bar in Manhattan and I looked down at the menu and it said 'wine spritzer,'" Mr. Johnson said. "I told her, 'I'm in.'"
Founder: Jayla Siciliano.
Employees: Bon Affair has nine partners — all have stock options — but no full-time employees yet.
Location: Solana Beach, Calif.
Pitch: "The reason I got into this was because it fit into a healthy, balanced lifestyle, which is how I want to live," Ms. Siciliano said. "We have two products, a sauvignon blanc and pinot noir and we don't add sugar or preservatives. It's a lighter alternative for wine drinkers, it has half the calories."
Challenges: The first 5,000 bottles that came off the line last spring at the Detroit manufacturer Ms. Siciliano chose had specks of tomato floating in them. "They had been bottling a Bloody Mary mix and didn't fully clean the line," she said. "We had to scrap all of that."
There were other bottling issues too — leaking, caps that wouldn't come off, incorrect labels and low-fills. Ms. Siciliano discovered the cap problem right before a big event in San Diego, after which she and Mr. Johnson spent two days sorting through boxes to separate the bad from the good. The company has since switched to a California bottler. "Keeping the product natural makes it much more difficult to find bottlers we can use," she said.
Traction: In January, after Bon Affair was mentioned in a Shape Magazine "Hot List," Ms. Siciliano said Web orders went up tenfold: "We went from a few a week to five or six a day." In fact orders went up so fast there wasn't enough product to meet the demand. This spring, Bon Affair will be in four Whole Foods stores in San Diego as well as on Amazon. And in April, after the next bottling run, it will be sold in eight states. The company has also had some international sales through Wineflite, a wine-shipping service based in San Francisco.
Revenue: $15,000. The bottles retail for $14.
Financing: Three investors have put in $640,000.
Competition: "We really don't have any direct competitors," said Ms. Siciliano. "There are a couple of spritzer companies in Italy, but they are sweeter and have over 7 percent alcohol. We're at 6.5 percent."
What's Next: A year from now Ms. Siciliano wants Bon Affair's bottles lining the shelves of all the Whole Foods stores in California and offered on Virgin America flights.
What do you think? Is there a market for Bon Affair?
You can follow Eilene Zimmerman on Twitter.
Article source: http://boss.blogs.nytimes.com/2013/03/27/a-start-up-tries-to-give-wine-spritzers-a-new-image-and-a-second-wind/?partner=rss&emc=rss