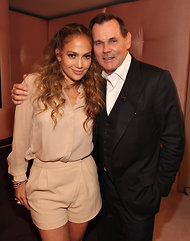 Christopher Polk/Getty Images for CotyJennifer Lopez, with Bernd Beetz, chief of Coty, has promoted the beauty products maker for the past 10 years.
Coty filed to go public on Friday, revisiting a strategic plan it had formed before trying to buy Avon Products for $10.7 billion this year.
The beauty products maker hired Bank of America Merrill Lynch, JPMorgan Chase and Morgan Stanley to lead its initial offering. While the company listed a $700 million fund-raising target to determine listing fees, people briefed on the matter had previously said that it might seek to raise up to $1 billion.
By going public, Coty would give its parent, the German conglomerate Joh. A. Becker, a chance to cash out on its investment. Founded in 1904 as a perfume company, it has grown into a global seller of fragrances and high-end nail polishes, with brands promoted by the likes of Beyoncé and Jennifer Lopez.
Related Links
The company said that it earned $61.7 million in net income last year, atop $4.1 billion in revenue.
Known as a serial deal maker, Coty tried its biggest-ever transaction when it sought to buy Avon, after months of unsuccessful merger talks. Coty offered $24.75 a share, a premium to its target's stock price.
But Avon repeatedly rebuffed the proposal, insisting on managing a turnaround on its own and hiring a veteran Johnson Johnson executive as its chief executive. Coty walked away in late May.
Article source: http://dealbook.nytimes.com/2012/06/29/coty-files-to-go-public/?partner=rss&emc=rss