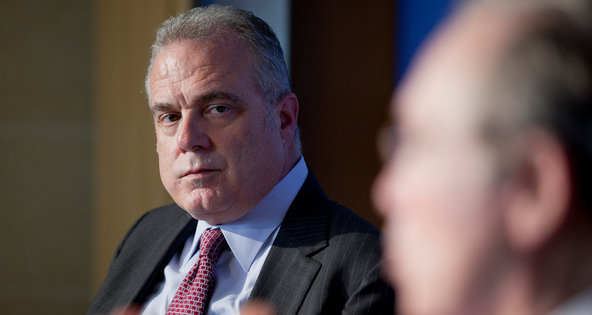 Andrew Harrer/Bloomberg NewsMark Bertolini, chief of Aetna.
Who is going to win the presidential election?
You might want to ask Mark T. Bertolini. He just bet $5.7 billion on President Obama.
Mr. Bertolini is the chief executive of Aetna, which on Monday agreed to acquire Coventry Health Care, a huge provider of Medicare and Medicaid programs. His $5.7 billion bet makes a lot of sense if you believe that the Affordable Care Act — otherwise known as Obamacare — will not be repealed.
Mitt Romney has pledged to repeal the act "on my first day if elected," so any gamble that Obamacare stays intact could be fairly described as a wager that President Obama will remain in office.

At a time when so many in the business community appear to be supporting Mr. Romney, it is telling that some businessmen and investors expect a different result — and are wagering more than rhetoric; they are staking their wallet on it.
It may be counterintuitive, but with the Standard Poor's 500 up 9.5 percent in the last three months and the stock market over all at its highest point since the financial crisis, there is an argument to be made that investors writ large may be helping the incumbent to win. Intrade, an online market that allows investors to bet on political outcomes and other world events, shows that President Obama is favored to win, 57.3 percent to 42 percent.
"The best single predictor of presidential re-election results that we found was the percentage change in the stock market during the three years that preceded Election Day," Deepak Goel of the Socionomics Institute said in February when he released a study that was recently highlighted by Reuters. The study said that recent performance of the stock market was more important than gross domestic product, inflation and unemployment.
At a minimum, the stock market, which is an indicator of future earnings, seems to be in disagreement, at least somewhat, with the steady drumbeat of C.E.O.'s and investors who have said that President Obama's administration, in the words of Daniel Loeb, the outspoken activist hedge fund investor, "is openly hostile to most businesses and unable to articulate or implement policies to spark growth and reduce unemployment."
Mr. Loeb is a frustrated Obama voter who now backs Mr. Romney.
But take a look at some of his most recent investments in the health care field. In the last quarter, he reported in Securities and Exchange Commission filings, he picked up shares of Aetna, Cigna, Humana, UnitedHealth and WellPoint, among others. All of those companies stand to benefit while Obamacare remains in force; a repeal of the bill could send those shares reeling.
Mr. Bertolini of Aetna insisted on Monday that the deal was not dependent on who wins the White House. But he has to say that. If he believed Mr. Romney was going to win and he still wanted to buy Coventry, he would have waited until after the election and bought it at a sharp discount.
In a note to investors on Monday about Aetna's Coventry deal, an analyst at Barclays explained the rationale of it plainly as a way of "strategically positioning themselves to capitalize on further gains which may arise as a result of the election and health care reform."
Aetna is not the only company to make a bet on the White House. WellPoint agreed to acquire Amerigroup for $5 billion in July, just a little over a week after the Supreme Court's decision to uphold the Affordable Care Act. Before that, Cigna paid $3.8 billion for HealthSpring in another bet on the expansion of Medicaid and Medicare.
Companies like Aetna, WellPoint and Cigna have all gravitated to rivals with a foothold in government-sponsored programs because the prevailing view is that margins for private customers are going to steadily erode. According to Aetna on Monday, the acquisition of Coventry will "substantially increase Aetna's Medicaid footprint, creating more opportunity to participate in the expansion of Medicaid and to pursue high acuity positions as they move into managed care." Aetna's revenue from the government will jump to 30 percent from 23 percent.
In fairness, it is possible to argue that the election will be immaterial to the future of the Affordable Care Act. Even if Mr. Romney wins the presidency, depending on which parties are in the House and Senate, the act may be impossible to roll back.
"Some will argue that with the election just over two months away, the company could have been more prudent in its timing," the Barclays analyst wrote. "Our take is that the election, reform and other potential legislative issues will have little impact on this transaction."
David Einhorn of Greenlight Capital recently made the contrarian case that companies like Cigna would actually do better if the law were to be repealed, ostensibly because of the margin compression that is likely as a result of the new law.
"While the stocks are already cheap, there is the additional unpriced upside in the possibility that the election changes the political landscape, resulting in a possible modification or repeal of Obamacare," he wrote in a letter to investors last month.
Still Mr. Einhorn, through smarts or luck, made a big investment in Coventry in the last quarter. With the sale to Aetna, irrespective of his investment thesis, Mr. Einhorn's firm just made about $72 million.
Article source: http://dealbook.nytimes.com/2012/08/20/investors-in-health-care-seem-to-bet-on-incumbent/?partner=rss&emc=rss